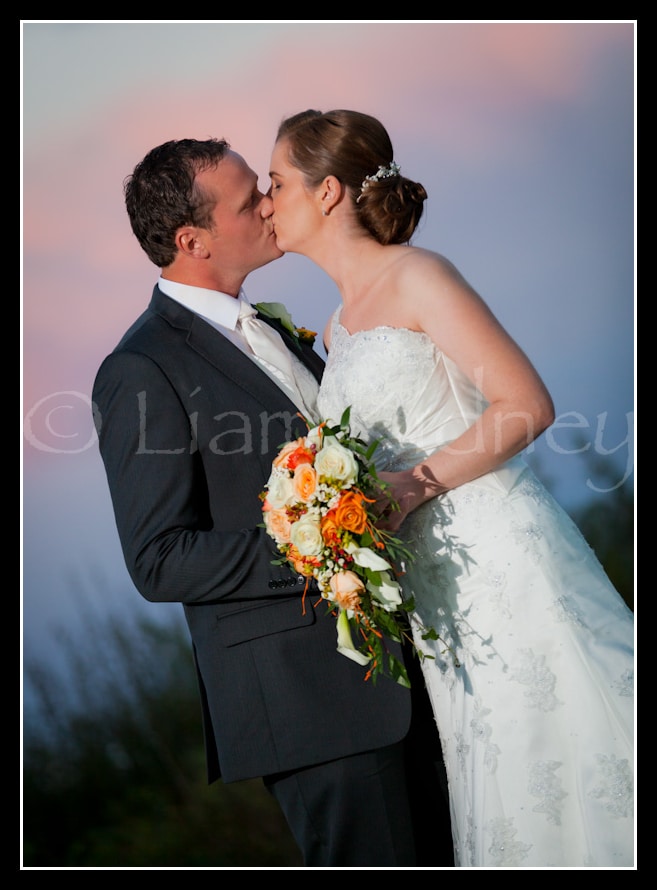 I recently covered the wedding of Patricia Callaghan and Vincent Kelly in Fairymount Church near Frenchpark, Co. Roscommon.   I went to the Bride's home house  which was about a mile from the church.  The bride, her sister and two bride's maids were all very relaxed when I arrived at the house.  I did a few preparation photos in the house before getting a few bridal portraits in the  back garden.  The two priests were very easy going and they helped the couple relax during the ceremony.  After doing a few family  and wedding party photos we hit the road for the long drive to Bellmullet, Co. Mayo.

We stopped on the beach near the Broadhaven Bay hotel but twice got stopped by the showery weather from getting the pictures we wanted so headed to the hotel.  I was getting gear from the car just before the meal and noticed a beautiful red cloud in the car park.  It was definitely third time lucky with the weather.  The Bride and Groom ended up getting their favourite photos in the car park of the hotel!!  The meal was served very promptly by the hotel staff and then we went on to the speeches.  The best man speech was the funniest I had heard in years.  The whole room was in Hysterics by his stories about the groom.  It set the scene for a fantastic night.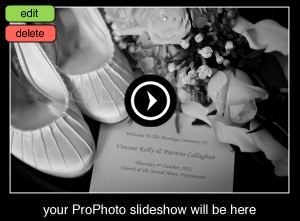 Suppliers:
Church:  Fairmount Church, Frenchpark, Co. Roscommon
Hotel: Broadhaven Bay Hotel, Bellmullet, Co. Mayo
Cake: Karen Cards and Cakes
Thank you for visiting this post from 2012
As a professional photographer since 2007 my style has continuously evolved and changed with the  times.
Here is a link to my favourite photos from 2019 which you can see is a lot different from 2012.
Here is a link to one of my favourite weddings from 2019 that will reflect my modern style that mixes documentary photography with the more classical style.