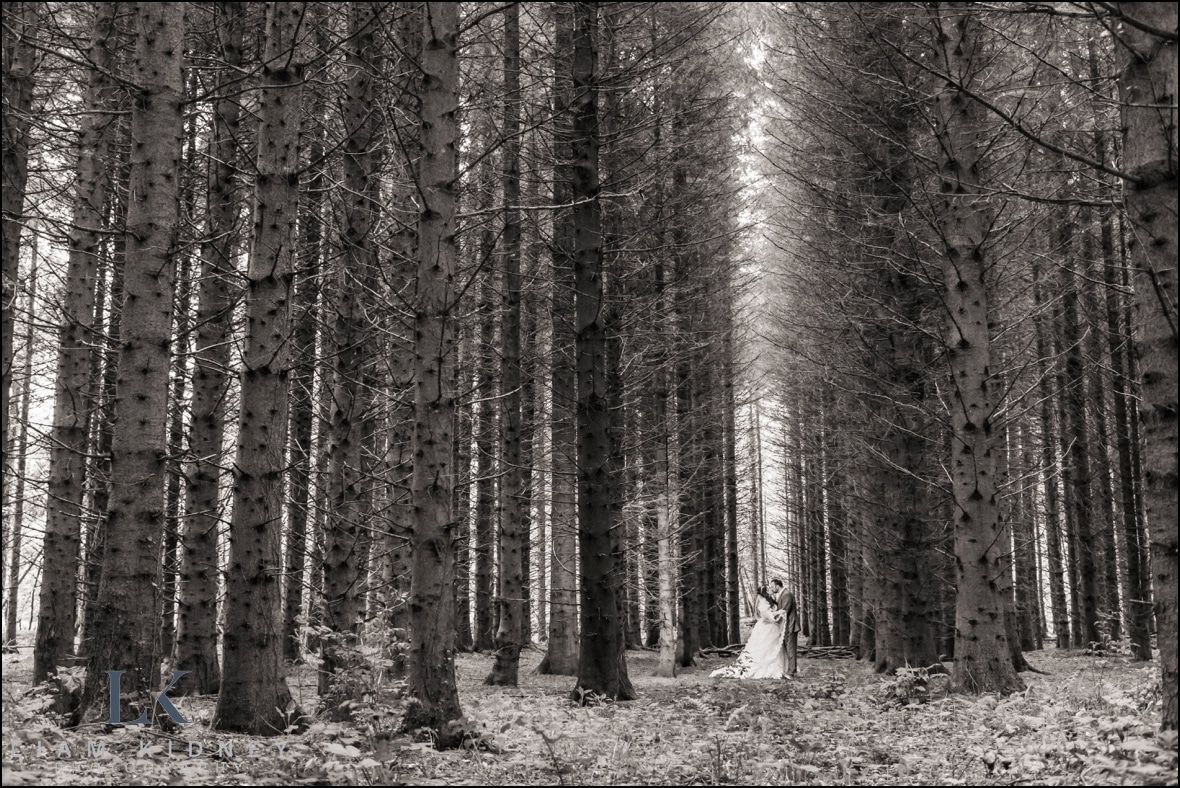 In July, I photographed the magnificent Castle Leslie Estate Wedding of Anne & Scott. Their wedding was truly an adventure, and I was pleased to be their wedding photographer to capture the love and excitement at their amazing Castle Leslie Estate wedding.
A Castle Leslie Estate Wedding
Castle Leslie Estate is considered by many one of Ireland's elite wedding venues. Located on a sprawling 1000 acres, the estate features majestic woods, picturesque lakes and a lovingly restored estate. Infused with old-world grandeur, it was the perfect backdrop for Anne and Scott's beautiful wedding. Since the wedding spanned a few days, we took full opportunity to take pictures throughout the Castle and the grounds, including deep in the woods.
Anne and Scott's grand wedding event featured so many unique and memorable elements. From falcons and Irish dancers to medieval sporting events, including axe throwing, it was truly an event designed for the bride, groom and guests to have an unforgettable time. For their wedding day, the theme was 'old-world romanticism', inspired in part by Beauty and the Beast. But it was by no means a Disney wedding. Anne and Scott subtly and thoughtfully wove their theme into the day using lovely props and colours.
I am thankful to Melissa Mannion for assisting me in photographing this romantic wedding event. After they had returned home, I reached out to Anne and Scott to ask them about their wedding and to see what advice they had to offer other couples planning a destination wedding in Ireland.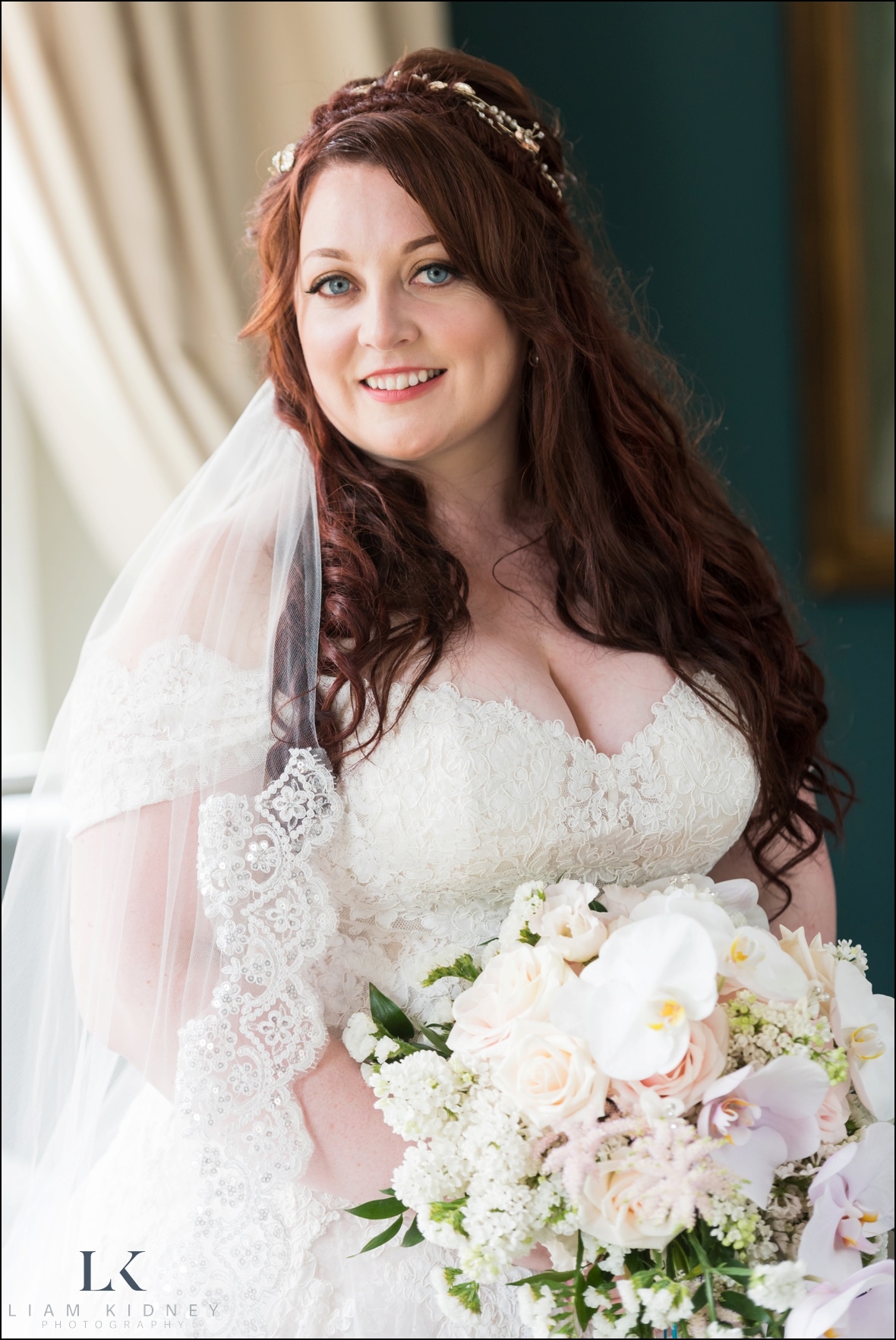 How
did you meet? 
We both attended the Yukon Beer Festival in Whitehorse, and since Anne doesn't drink beer, we both visited the oyster and scotch table, which was hosted by a friend of Anne's. We got to talking and while we were distracted by other friends throughout the evening, we continued to gravitate towards each other and make eye contact through the crowd over the course of the evening. The next day, Scott asked a mutual friend for my phone number and we spent a number of days going for long drives, watching a historic blood moon and a month later, we were crazy about each other and spending all our free time together.  
How
did he propose?
During Christmas, we went on a 5-day sailing trip to Poet's Cove on a small island off of Vancouver Island. During the summer, it is a very busy marina and has beautiful cottages and walking trails. The night before Scott proposed, he was talking to my brother about getting up early (6am!), to go for a sunrise walk to take family portraits for Christmas to share with my Nana (maternal grandmother). I was not overly impressed, as I am not a morning person. But, in the spirit of fun, family Christmas adventures, I agreed.
We all got up very early, dressed and when I looked out the window, there was not only no sunrise, but a snowstorm and complete whiteout – which is very rare for the island. Scott was not dissuaded and the three of us bundled up and went walking through the snow. It had quieted to a slow, soft snowfall and was quite pretty but very slippery. We walked around for 30 minutes while the boys debated the merits of various locations. I finally suggested two big beautiful trees I had seen that overlook the marina and the water and we went there. As soon as we arrived, Scott turned to me and said: Rachael Anne Lewis, will you be wife? Marry me. My brother was filming and taking pictures. A great morning walk after all!  
We were also very lucky that we met up with my Nana when we docked, had Christmas dinner and celebrated our engagement as she passed away in early January of that year. We were both very close with her and it broke our hearts that she wouldn't be coming to Ireland with us, but we were so thankful she was there for the celebration of our engagement and had given Scott her blessing to ask me to be his wife.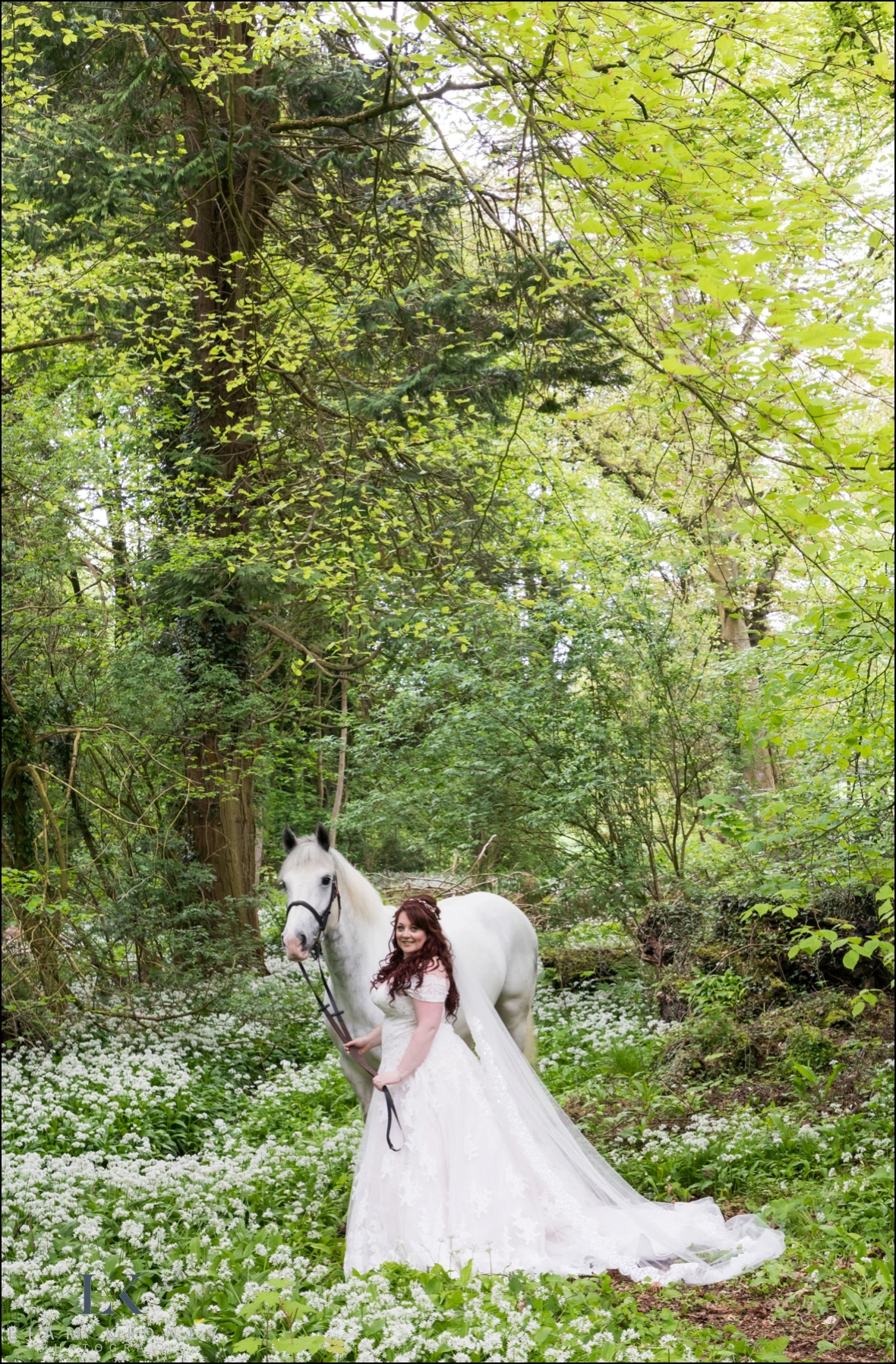 What
was important for you both when planning your Castle Leslie Estate wedding?
That we had fun, no stress and that we would be surrounded by people who supported the love and laughter that is a big part of our lives. Only people who have been active support and loving friends, colleagues and family were invited. We wanted to ensure that there was no drama. Everyone who attended had to travel a great distance from various places in Canada and the US, and we wanted the week to be as much as an adventure for them as it was for us.
We set up activities, events and time to just be in the moment with our guests. One of the things we were told constantly when we got engaged was that "the wedding would be a blur", "you won't remember a thing", "you won't get much time to talk and be with guests" – we DID NOT accept that any of this would be our wedding. And we made that happen. We had special time with each of our guests, enjoyed every moment and have beautiful memories. As a Bride, I thoroughly enjoyed the planning process, and Scott was very supportive of our ideas and goals. We touched base on everything at the beginning to make sure we were on the same page – and then he let me run with it on the final details.  
All that being said – none of it would have been as easy, magical and beautiful if we didn't have Collette O'Leary at Elegant Events [www.elegantevents.ie] to work with. She and her team were incredible and saved us an incredible amount of time, energy and money but providing amazing suggestions, guiding us how much of this and that we needed and cautioning us for going overboard – which let us focus on the important stuff! By the time we landed in Ireland for our 5-days of wedding adventures, we were able to just be along for the ride and enjoy it right along with your guests!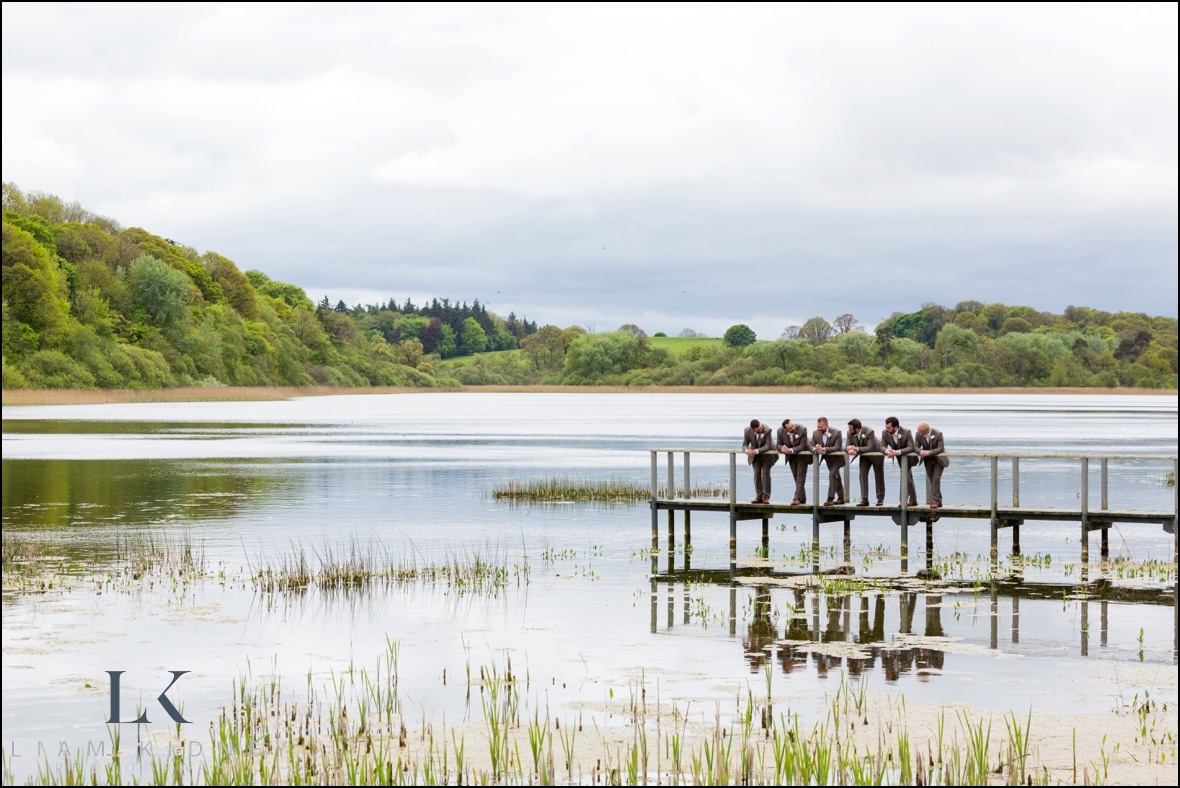 Did
you have a wedding theme for Castle Leslie Estate?
Our theme was old-world romanticism, which was 99% accomplished by hosting it at the magnificent Castle Leslie Estate (Website). We stepped back in time from the moment we pulled up. We also took some inspiration from my favourite movie – Beauty and the Beast but kept this very simple and didn't try to have a Disney wedding, but incorporated little bits of it to add charm and fun. Our colours also aligned with this as we chose gold and rose gold, which is a tribute to our home – the Yukon, home of the Klondike Gold Rush. We both work in mining and it is a big part of our lives.  
Where
did you get your dress? 
I traveled from Yukon to Calgary to get it from Ethos Bridal. We made a girls' weekend of it, with 6 of use staying 5 days in Alberta – trying on dresses in Edmonton and Calgary and taking lots of breaks to just have a girls' weekend – shopping, games, and relaxing. We didn't put much pressure on the event and were very lucky to find the wedding dress and bridesmaid dresses at the same store. The Ethos Bridal team treated all of us like royalty and we said Yes to the Dress over champagne and tears!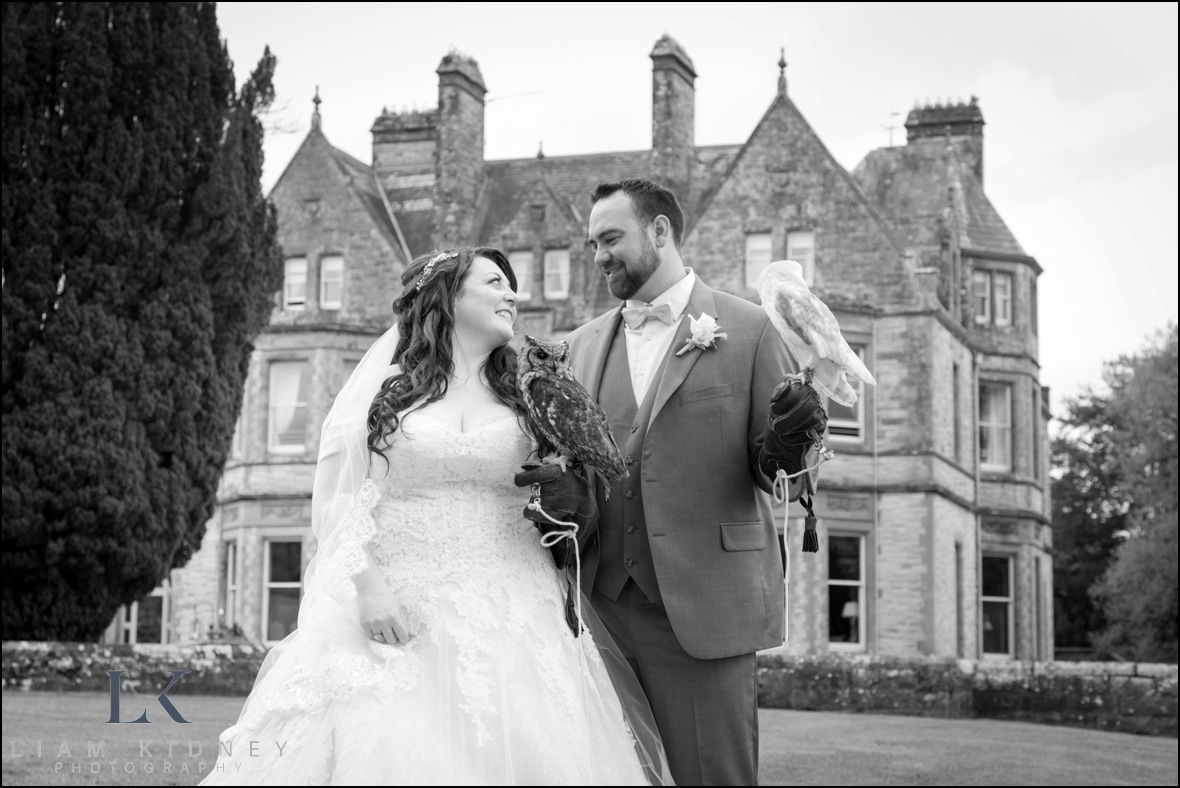 Where
did the groom and the groomsmen get their suits?
Scott had his suit custom made at an incredible store in Victoria, BC and he, the Father of the Bridge and my brother who was a groomsman, also got their rehearsal dinner outfits from the same place. 
The groomsmen had custom suits made by Moore's.  
Who
did your hair and 
makeup
?
Hair – Caroline Zinck 
Make-up – Michelle Field
Both were incredible, fun and had great ideas. They were part of our fun girl team on the day of!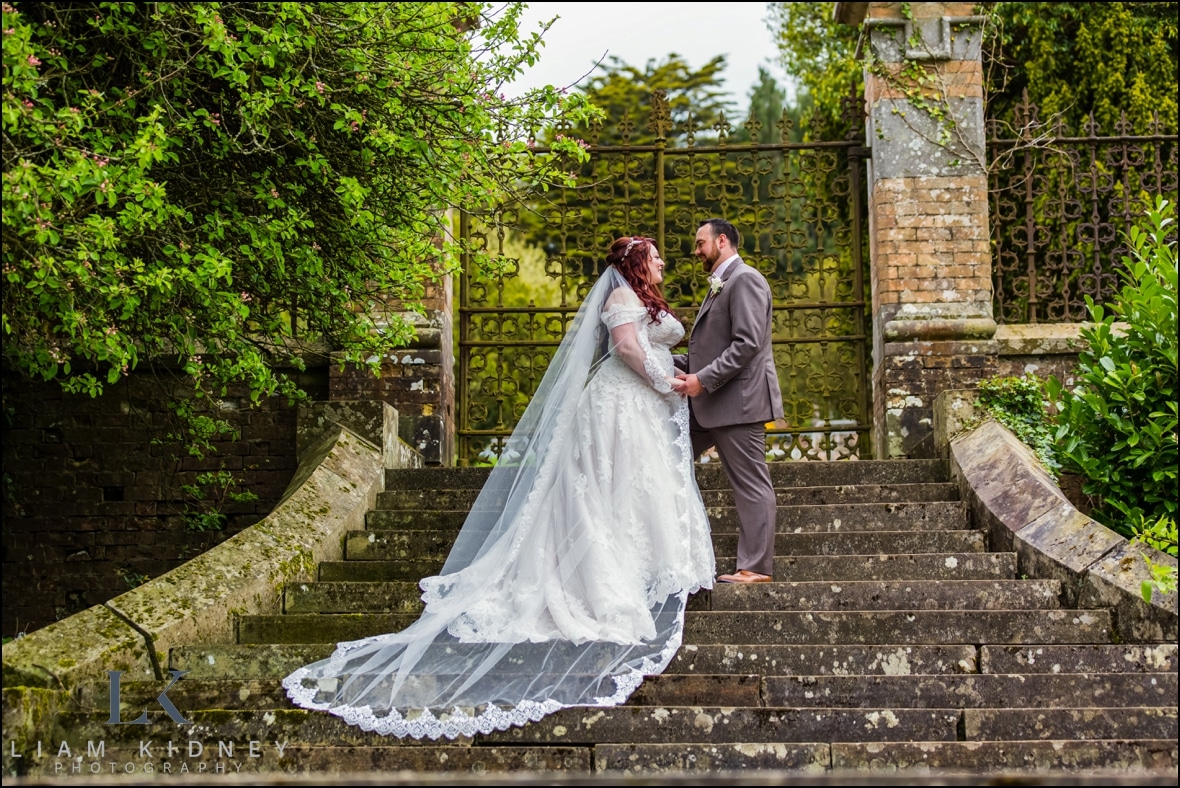 What
do you remember most from the ceremony?
Our mantra for the wedding day was: be in this moment, remember this. We took it slow and reminded each other to be a part of each thing we were doing to avoid just going through the motions. We had a number of very special moments in our ceremony: 
Each person in our wedding party was invited over to us individually to whisper a word of 

advi

c

e

, encouragement or to help us laugh. It was very special to take that time with them and feel their love and support in such a unique way that was just for us.

 

At the 11

th

hour, we were unable to obtain our legal marriage certificate (thanks to lack of communication by the Government of Ireland!), but we recovered by having a handfasting ceremony, which for us was even more impactful as we stood in a country with incredible history, on the steps of an ancient family home and castle and had a wonderful man pe

r

form an ancient marriage ritual – we wouldn't trade it for the world. Our parents helped with the ceremony and it was amazing to have them participate in this unique way.

 

(We did sign papers back in Canada

,

though!)

 

We wrote the entire ceremony, vows and blessings and chose all the songs ourselves, so everything was very personal and held meaning for us. Taking the time to make it relevant to us was important. We also wanted it to be special for our guests as well. 

 
What
was special to you in the ceremony?
I think for both of us, it was when I surprised Scott by reading a note that his mother had written him 10 or more years ago. Both of Scott's parents passed away prior to our wedding and I wanted to find a way to bring them into the event wherever we could. When we were cleaning up and going through some of his family's stuff, I found a note that was his mom and it was just reminding him to have a fun night out, come home safe and that she loved him. It was on a ripped piece of paper and barely legible anymore, but we were able to read her words to him in that moment and have them in the ceremony with us. We also lit a candle for all of those we loved, who are remembered but could not be there.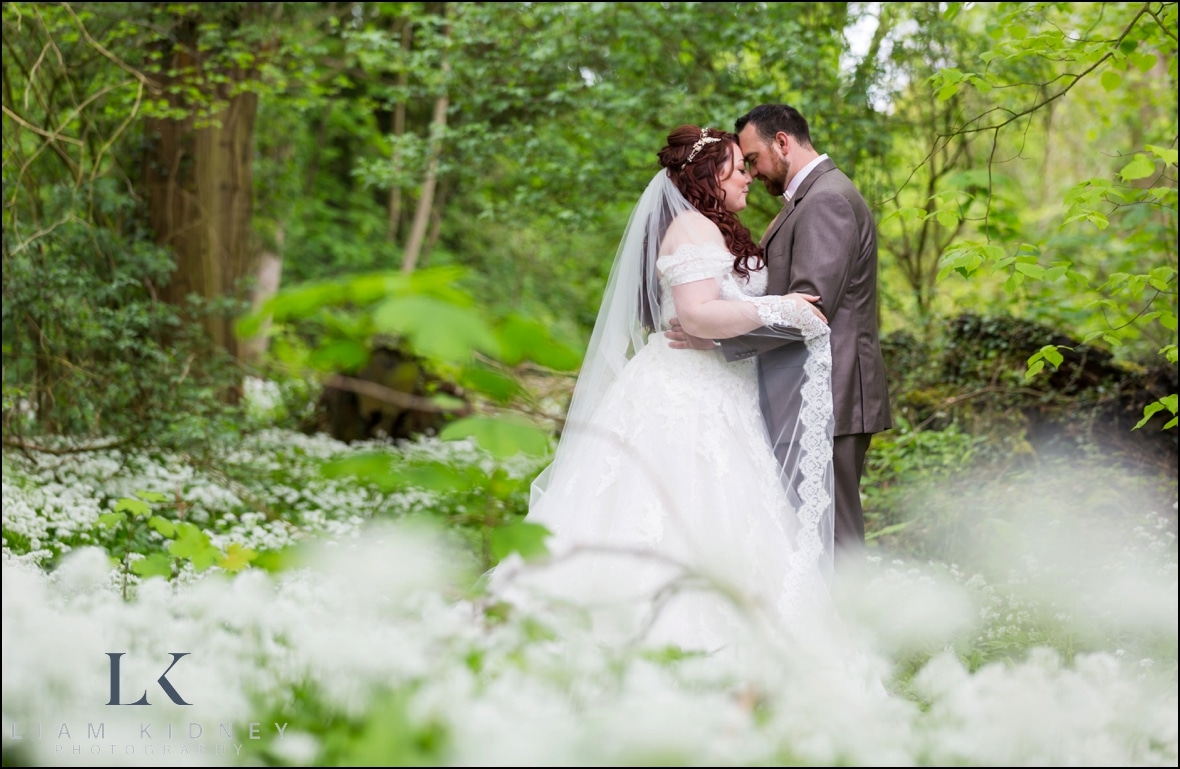 How
did you choose Castle Leslie Estate as your venue?
On the day we got engaged I must have looked at 100+ venues in Ireland and after getting completely overwhelmed, I decided I needed a wedding planner who was based in Ireland. Collette helped us narrow it down to 5 venues and we selected one and made plans to come to Ireland to visit them. When we arrived at our choice venue… it was everything I did not want (despite being a gorgeous venue). It wasn't private, had been modernized to the point of losing the old-world charm I was looking for, and the rooms didn't flow the way we imagined our day would. We visited all our alternates and I did not like any of them.
Completely deflated, we left the last one. As we pulled out, Collette asked what I was looking for and when I described it again, she recommended Castle Leslie. I instantly googled it, perused the website and it was love at first "site"! Collette was able to call the Castle and fit us in the next day to go up to see it and as soon as we turned past the stone wall and started driving up the quiet wooded driveway – we knew it was the place for us. We were in awe of it from the beginning. We wanted history, family, connection, and privacy in an elegant and comfortable setting. Castle Leslie was incredible. The staff were unbelievably helpful, kind and made us feel at home. For 2 magical nights, it felt like it was our home – so much so, none of us bothered to lock our room doors and were wandering the halls from room to room to see all the beautifully designed, distinctive rooms. I could rave about Castle Leslie all day. We can't wait to go back! A special shout out to John who went above and beyond, over and OVER AGAIN, for the 3 days we were there. Amazing.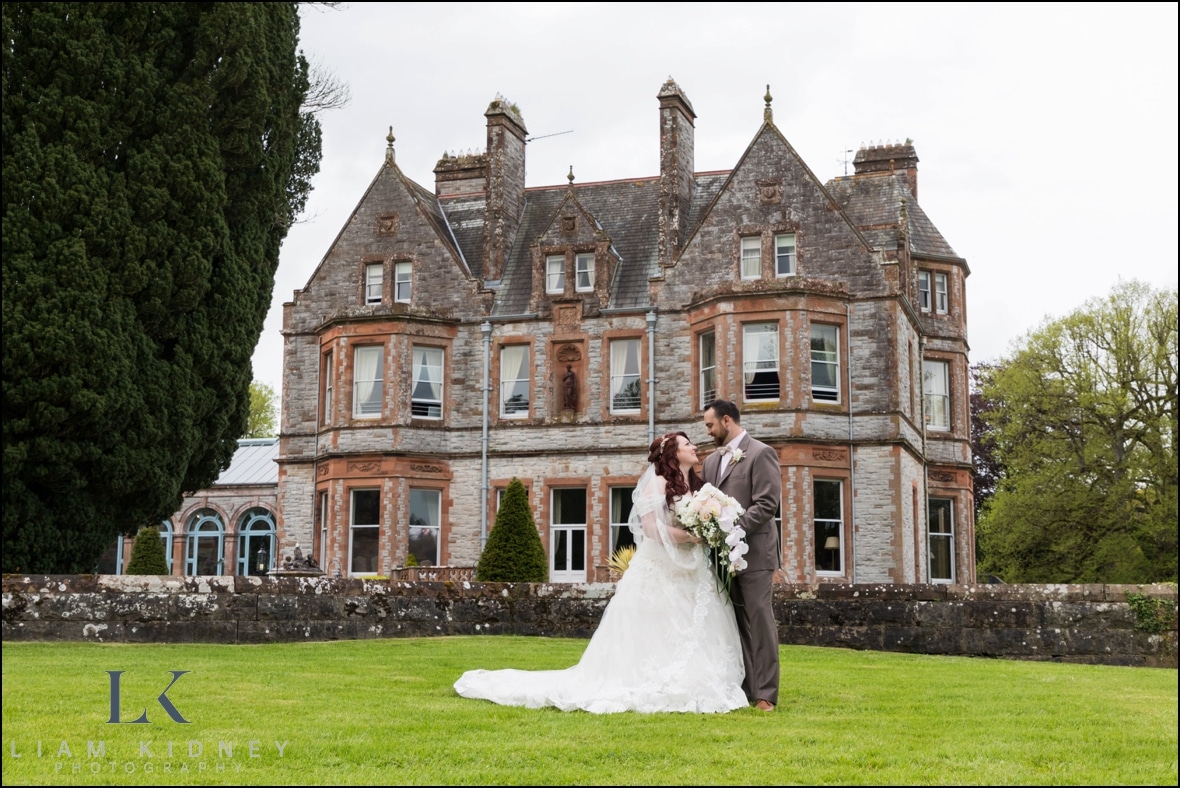 What
was your favourite part of the Castle Leslie Estate wedding day?
Our first look. We choose to do a first look before the wedding ceremony so that we could have some special time together and get all our pictures without being rushed, on a schedule, or feeling like we were missing out on the party. We ended up with some truly spectacular memories – of course, credit goes to Liam and Melissa for being so open to sooo many different shoot locations and set-ups. We had a blast with you guys!  
Have
you any advice for future couples planning their wedding?
There is no reason to stress! You do not have to believe what everyone tells you about how their wedding went, or how a wedding should go. We made our wedding exactly as we wanted and wouldn't change a single thing about it. We invited only people who would be there to celebrate, have fun and support us and that had to be the best (and maybe the hardest) part. Know who you want there for YOUR day and stick to it. I promise you it is worth it.  
I loved every minute of wedding planning – and part of my trick, put on a fun movie, have a glass of wine or tea and hit each wedding item one at a time. Enjoy Pinterest, magazines, and researching – it's great for inspiration. Make each part of it an adventure and enjoy checking it off. We made wedding dress shopping a girls' trip, with someone for everyone – those little things make it less like a checklist and more like the journey to the alter it should be – time with loved ones who helped you get there! 
Have a wedding planner – even if it's just for the days leading up and the wedding day. You won't regret someone else answering the million questions that day. You will get to be IN THE MOMENT and enjoy your family and friends – as well as your new partner!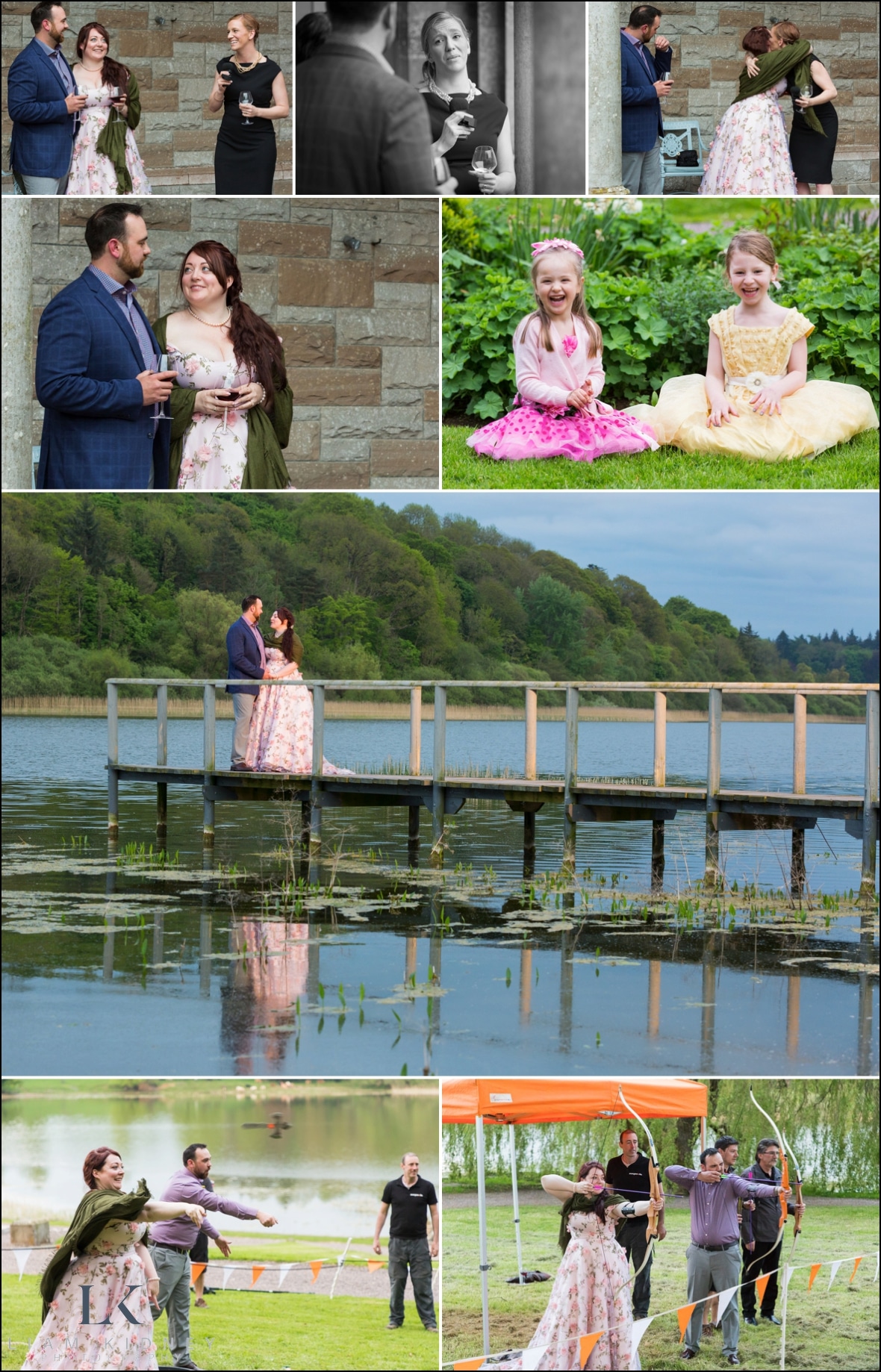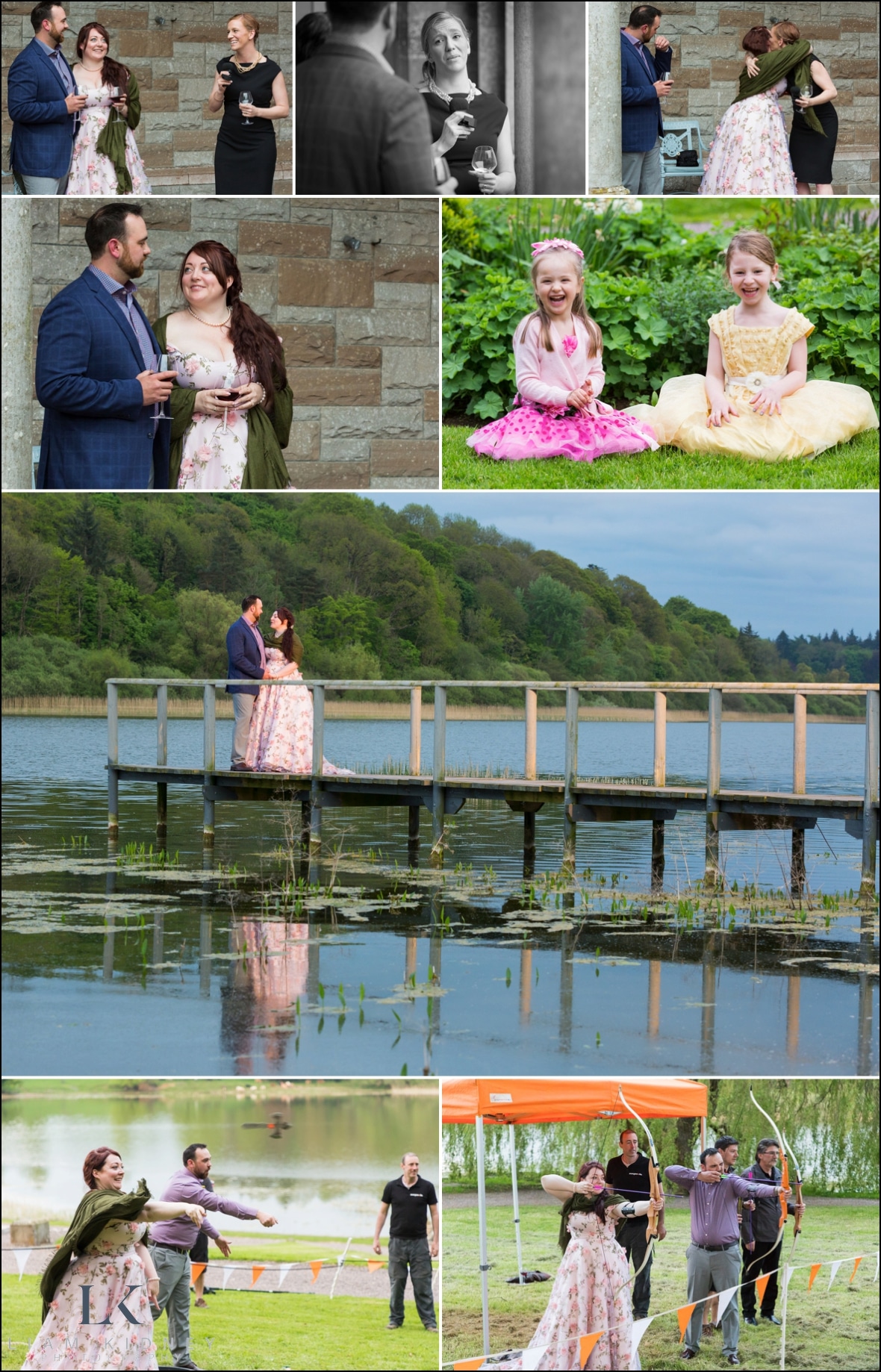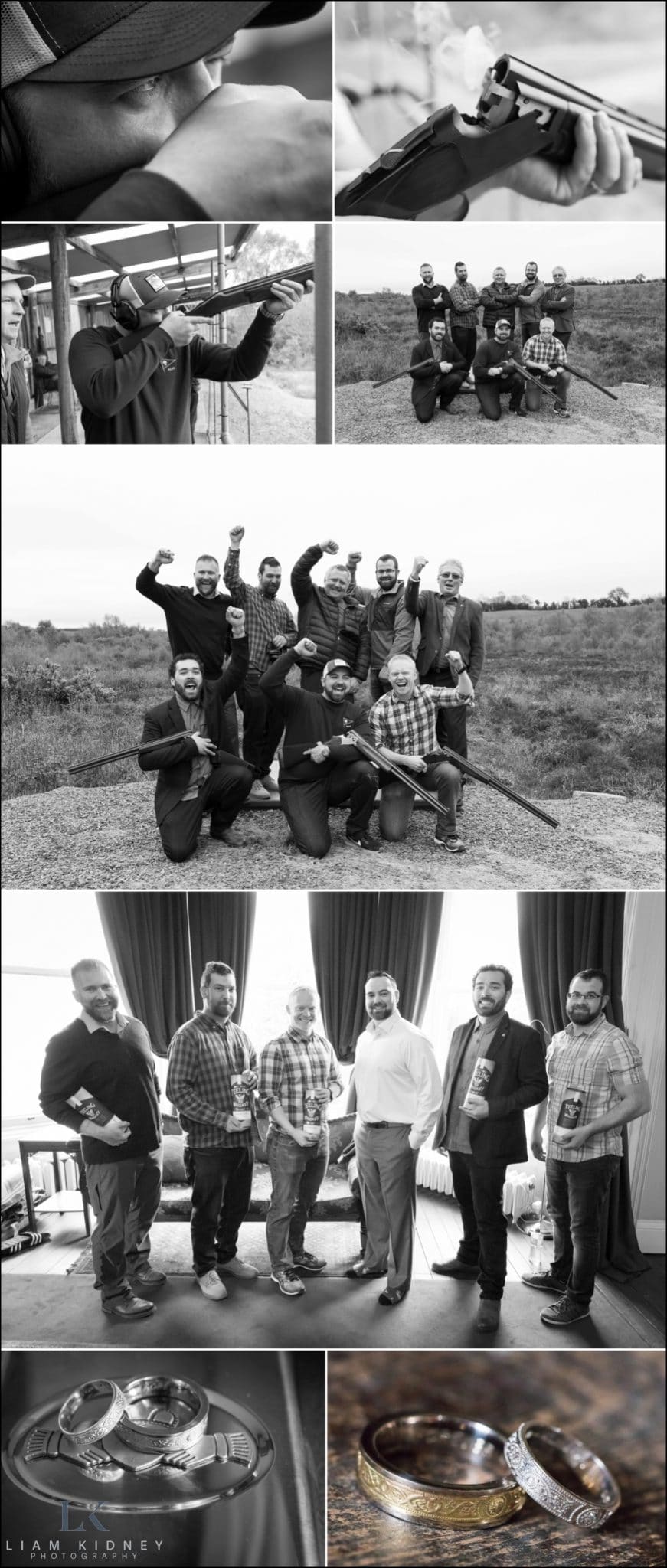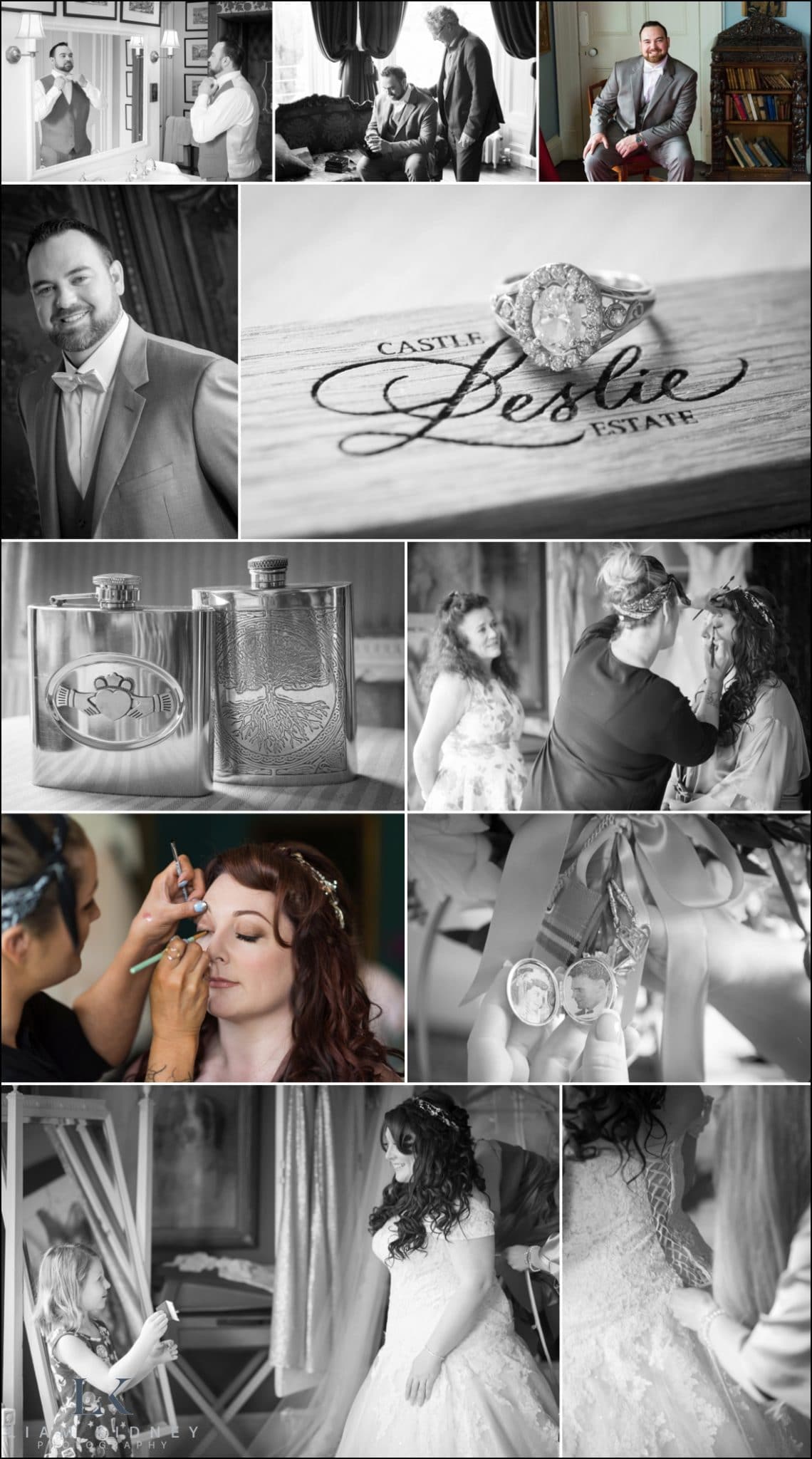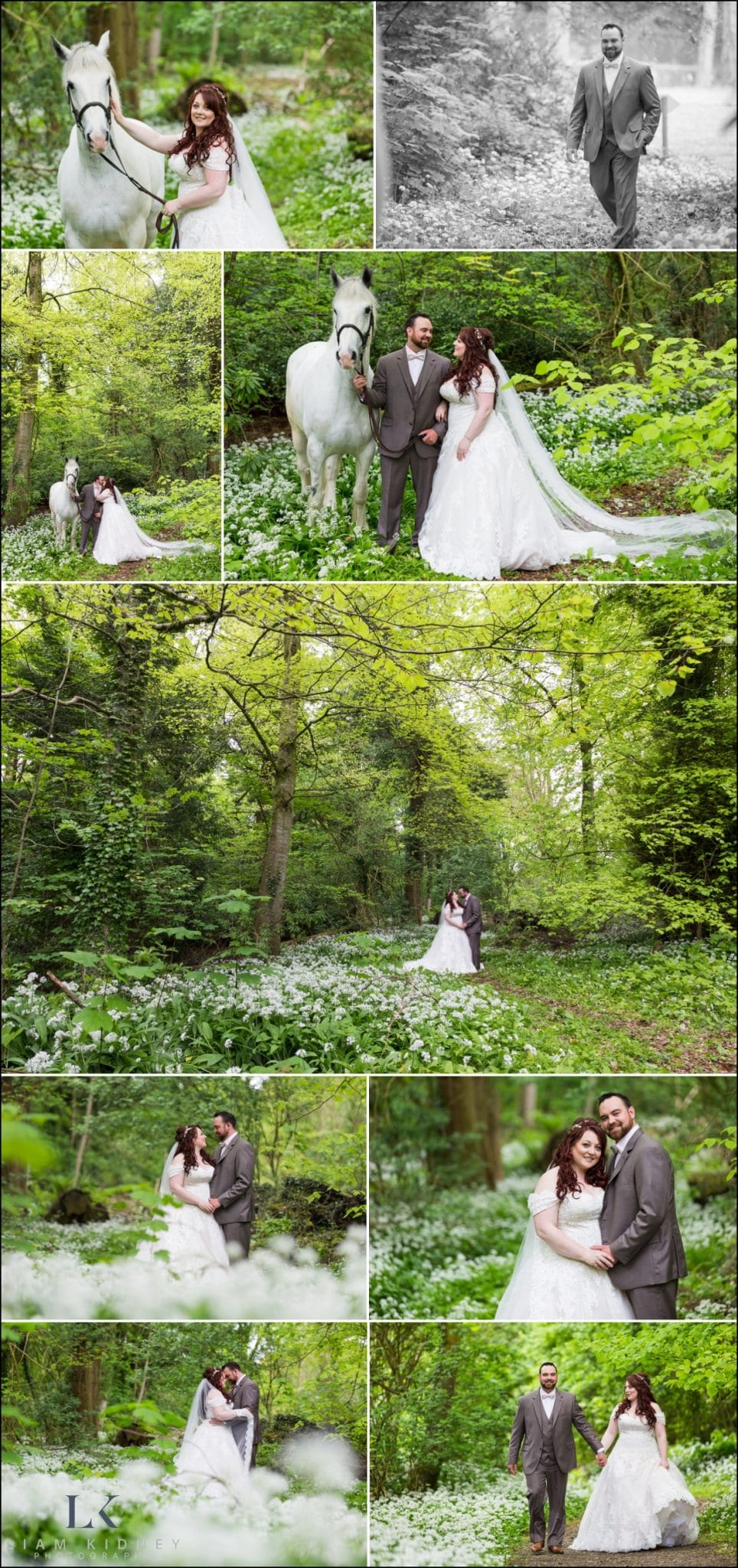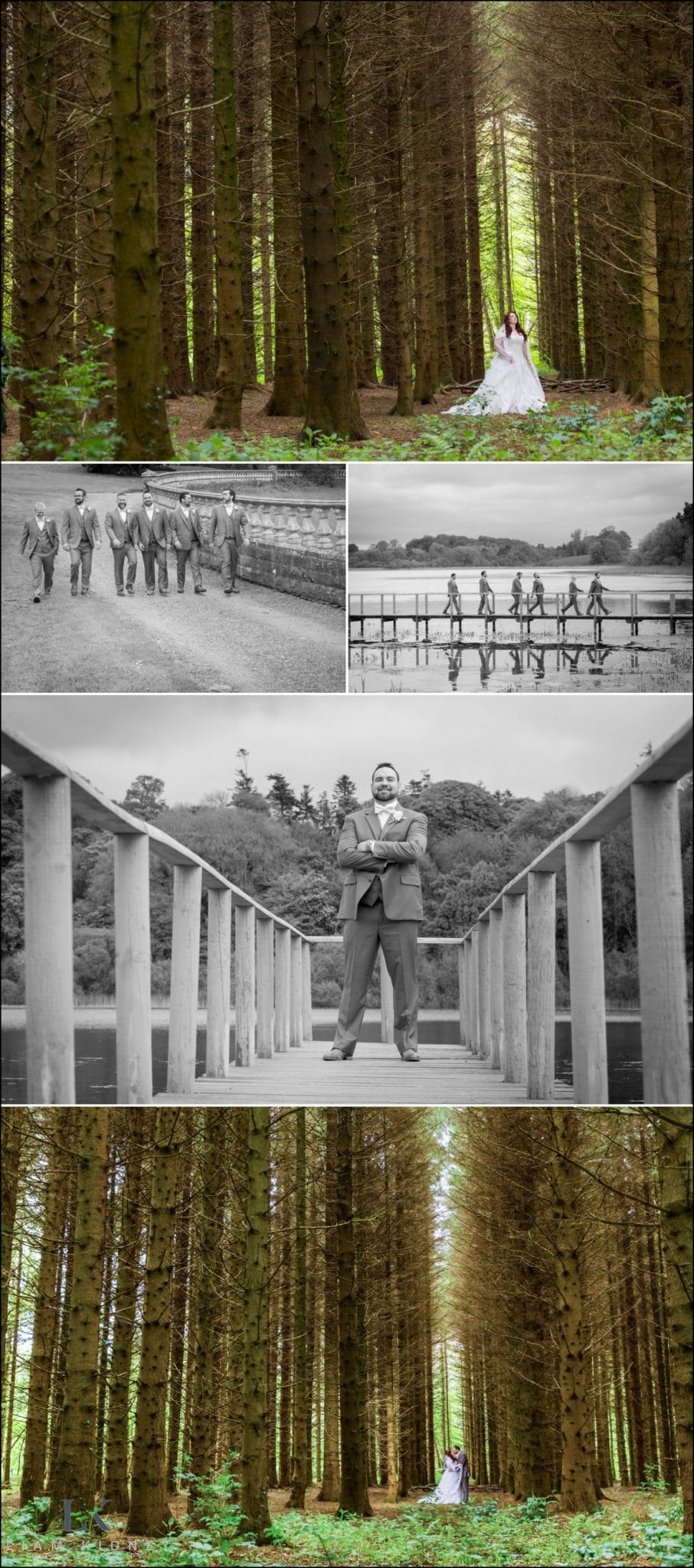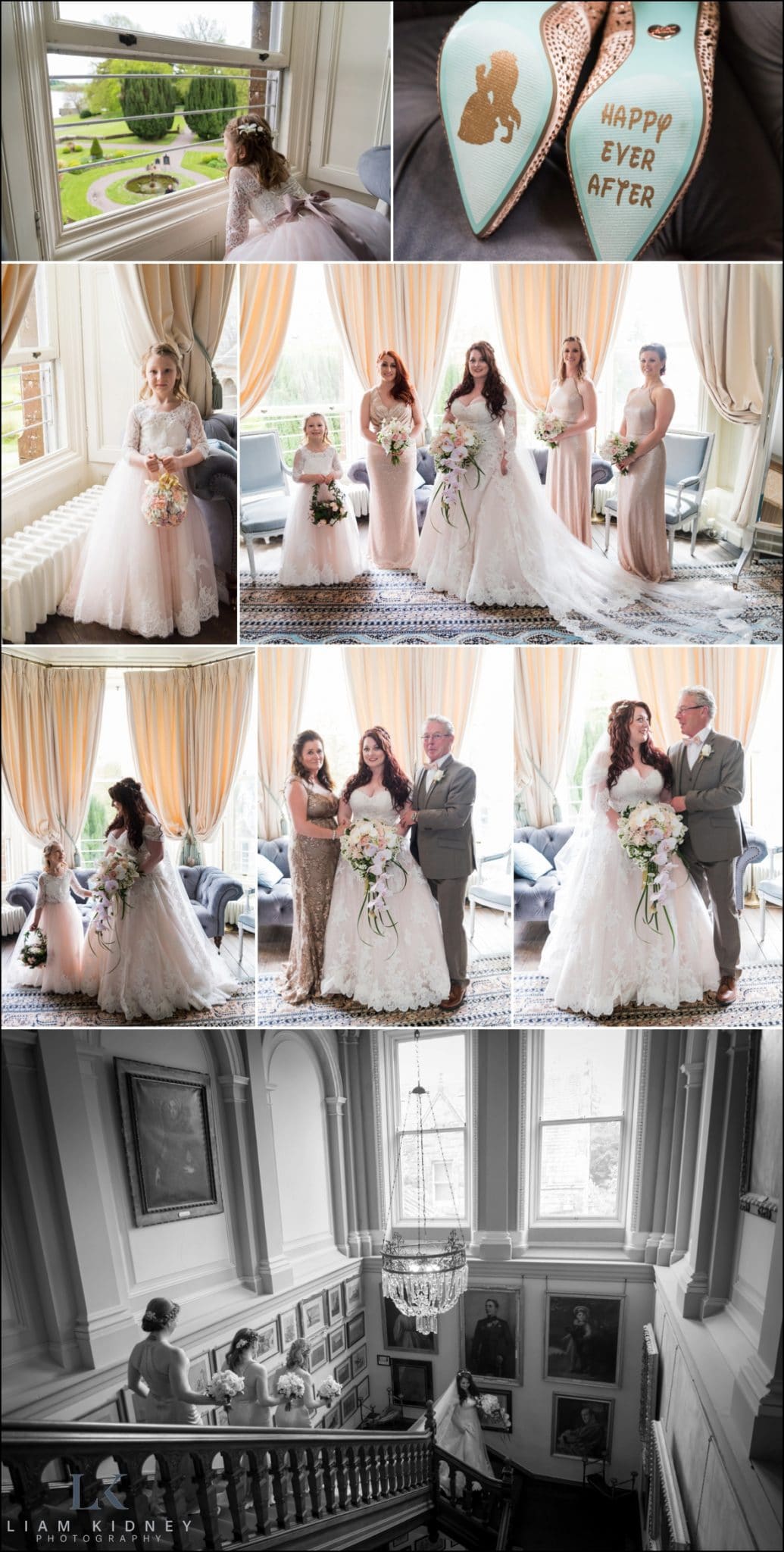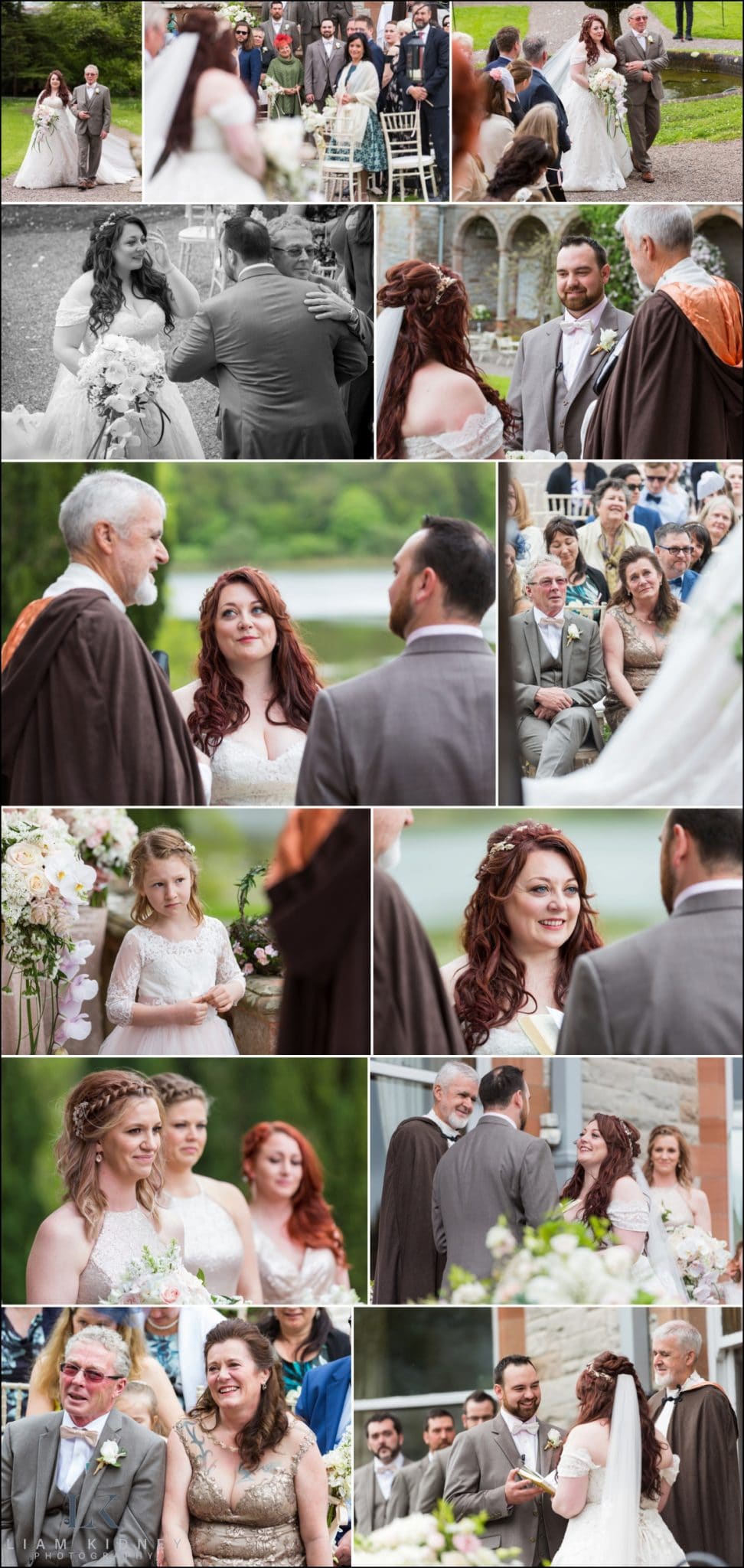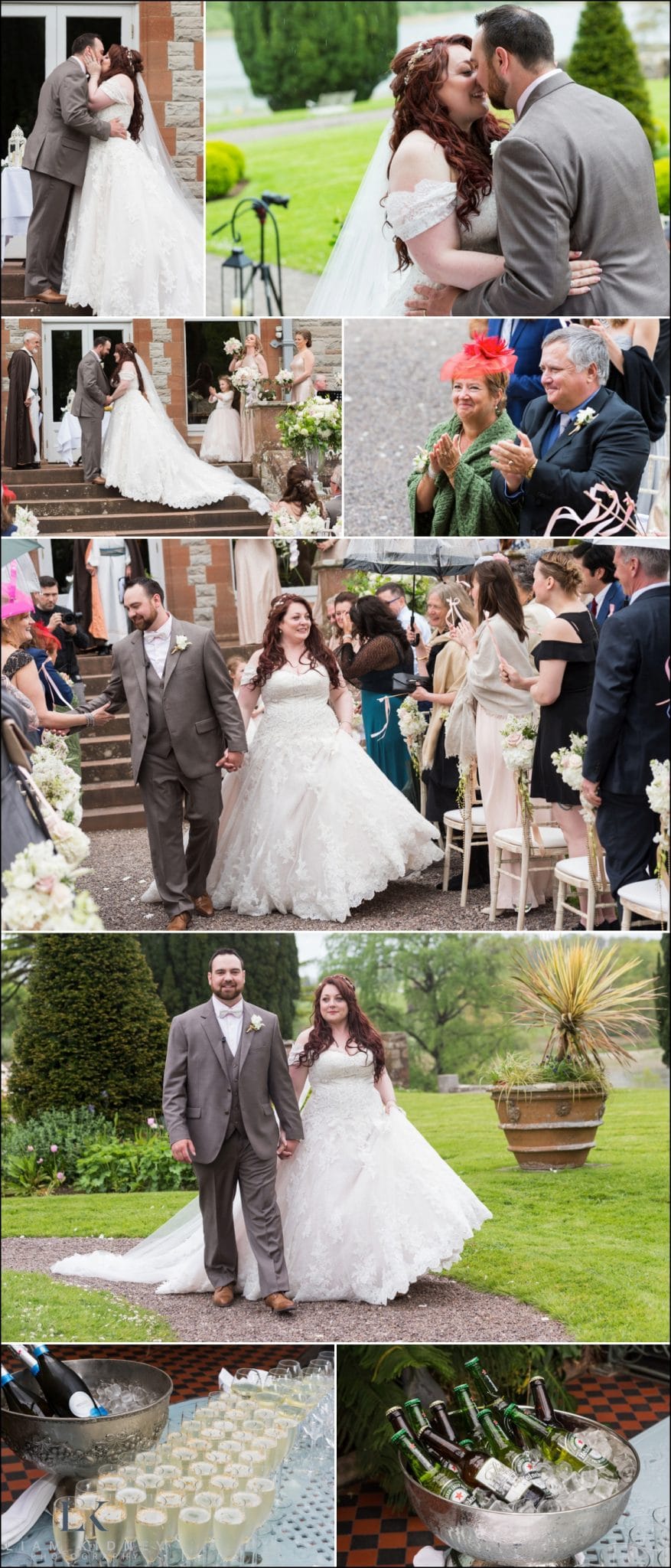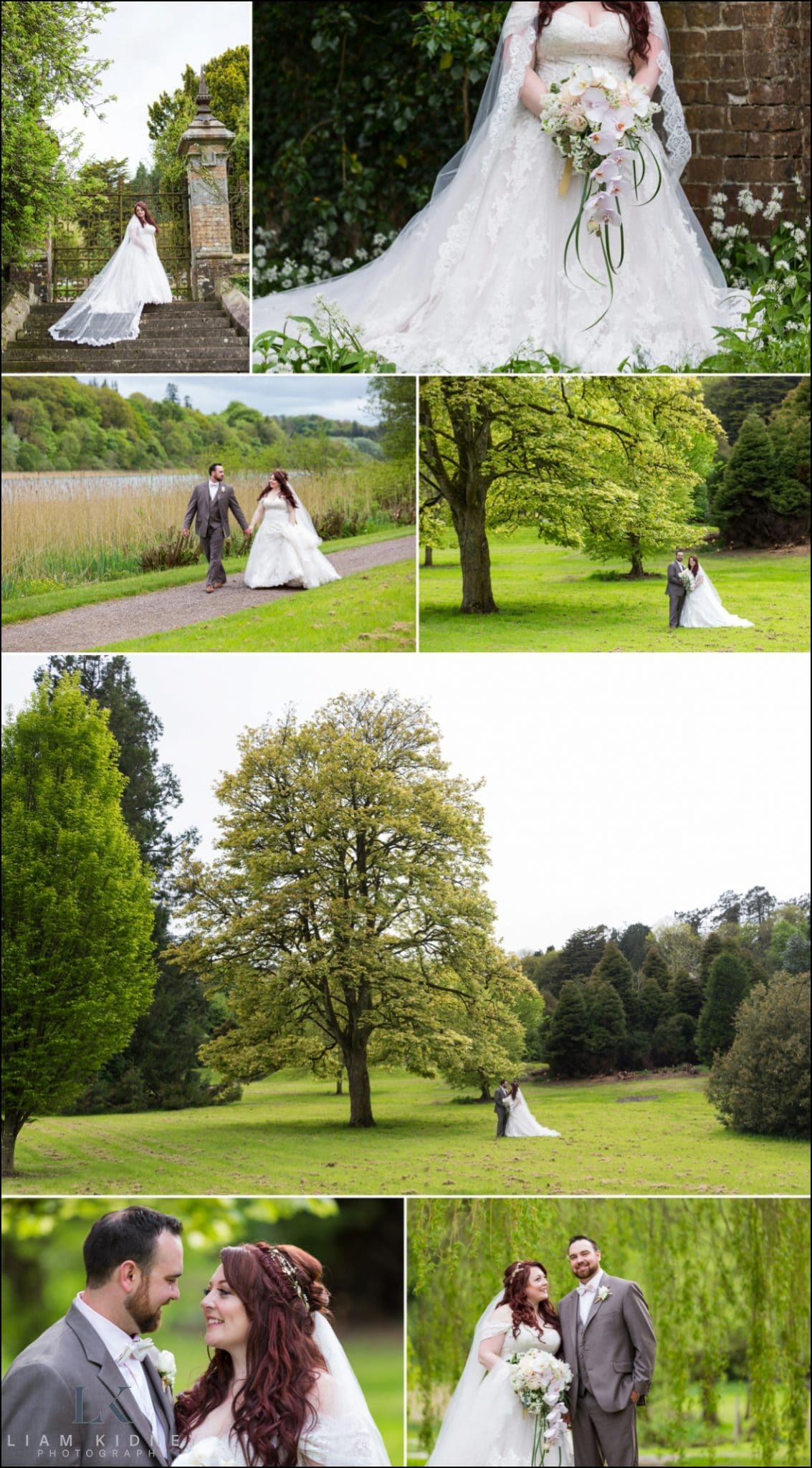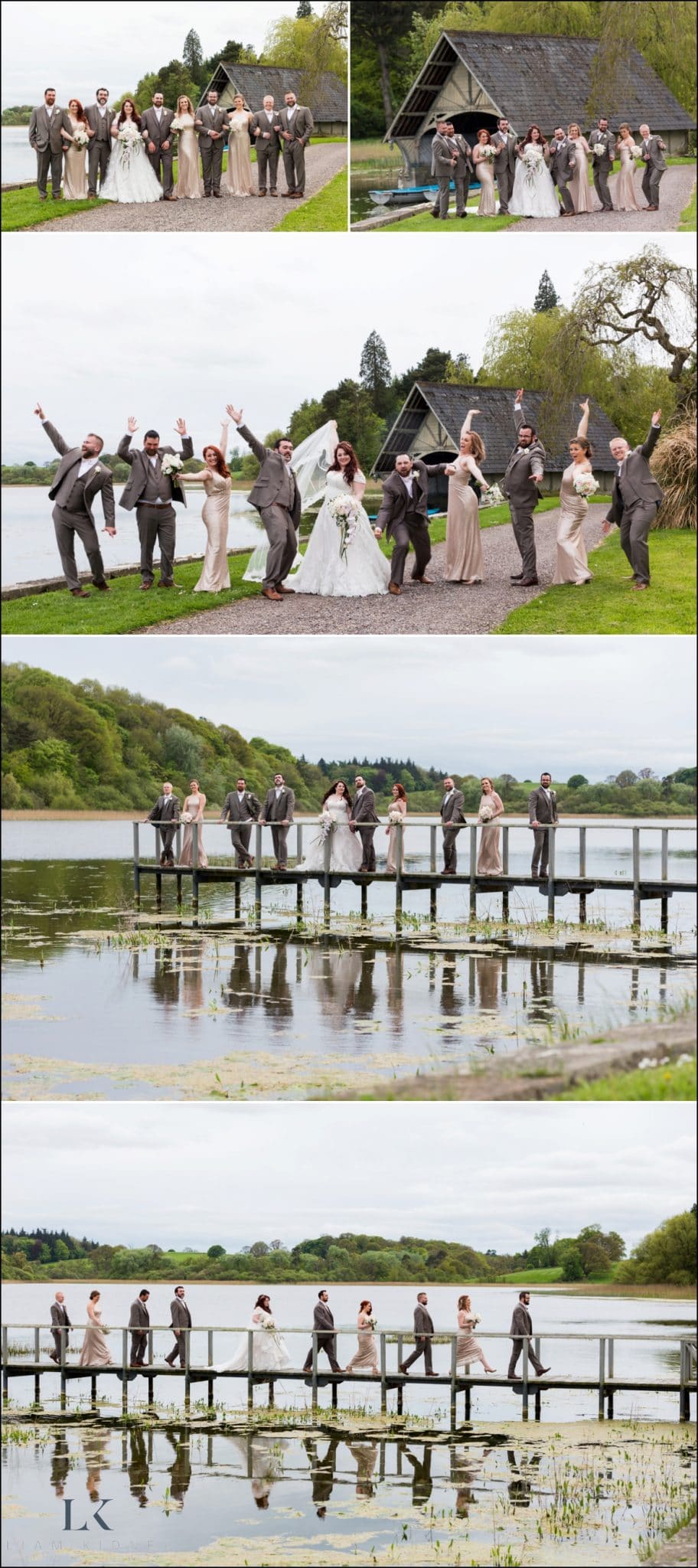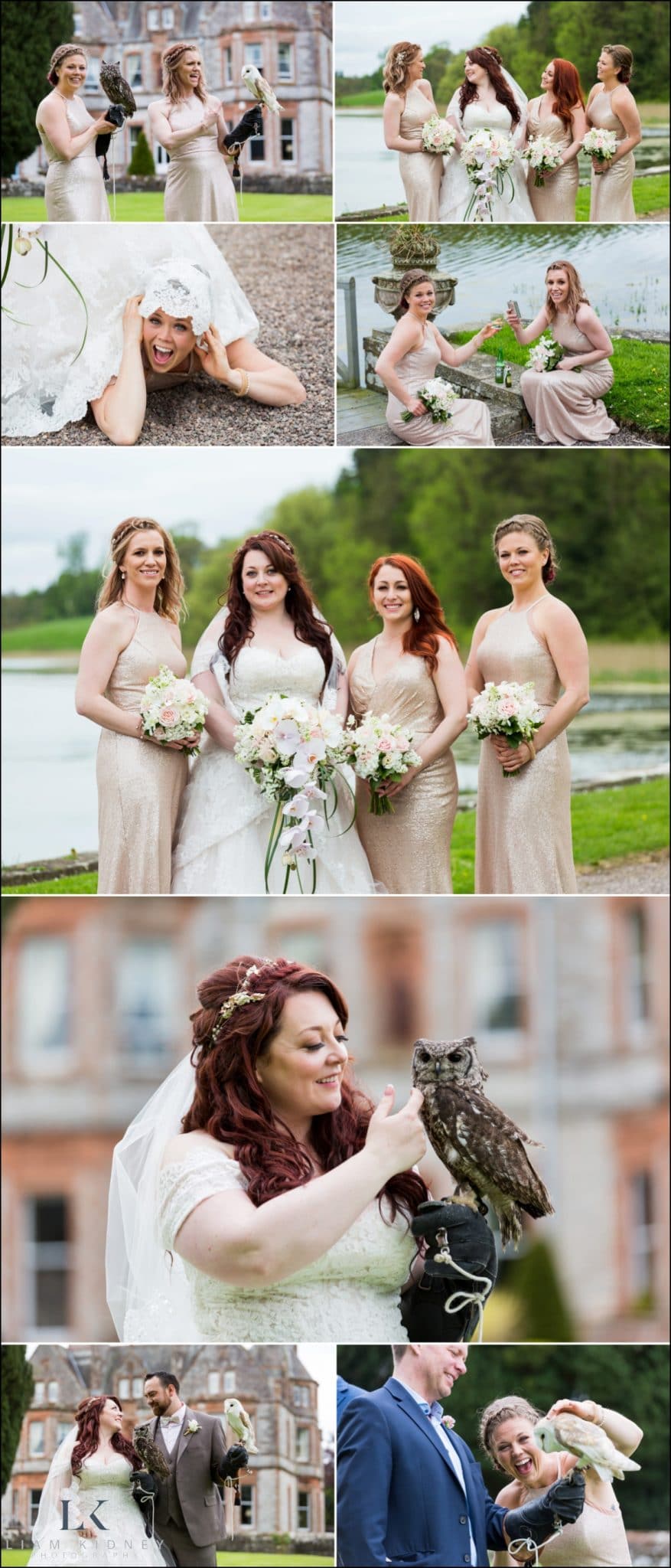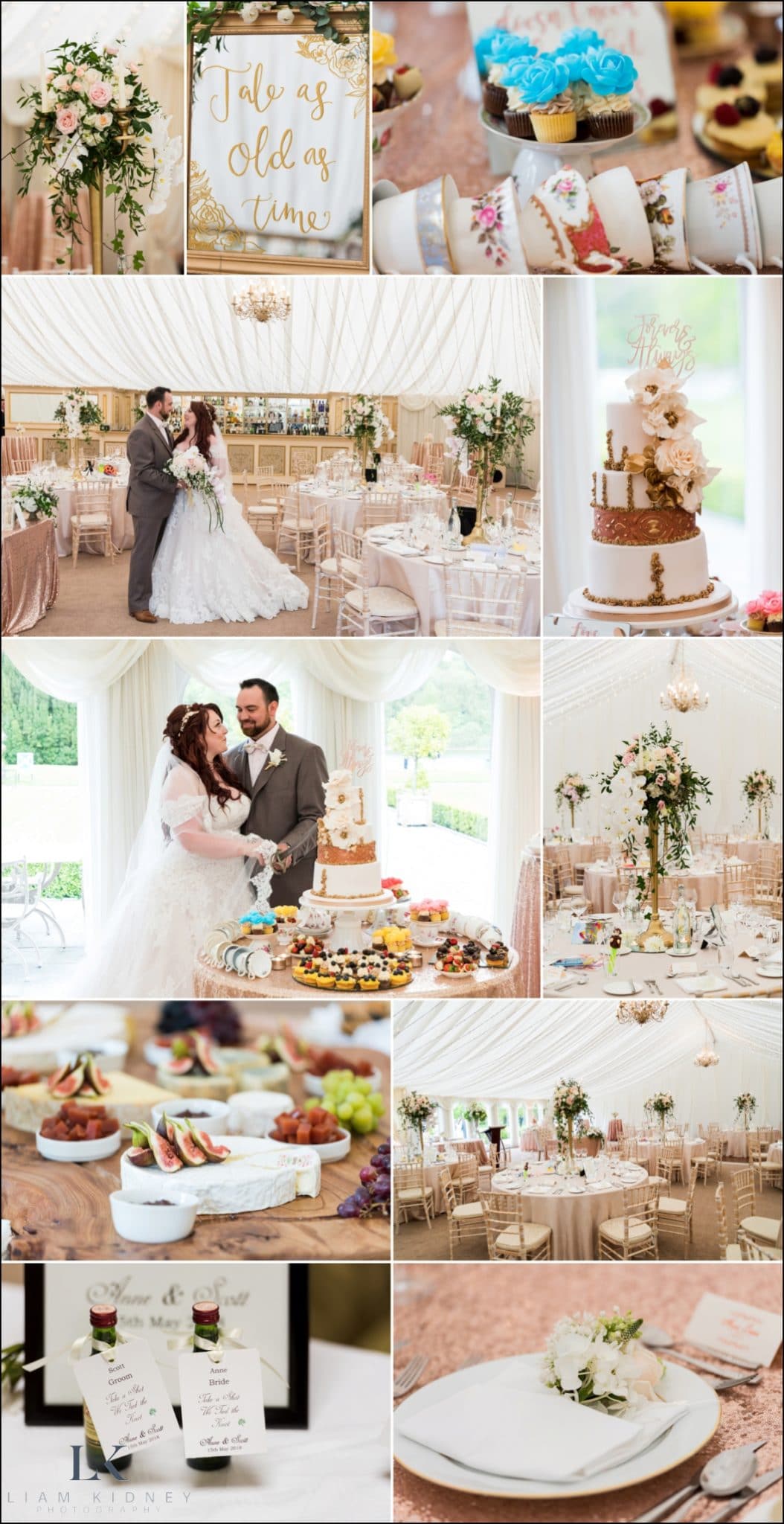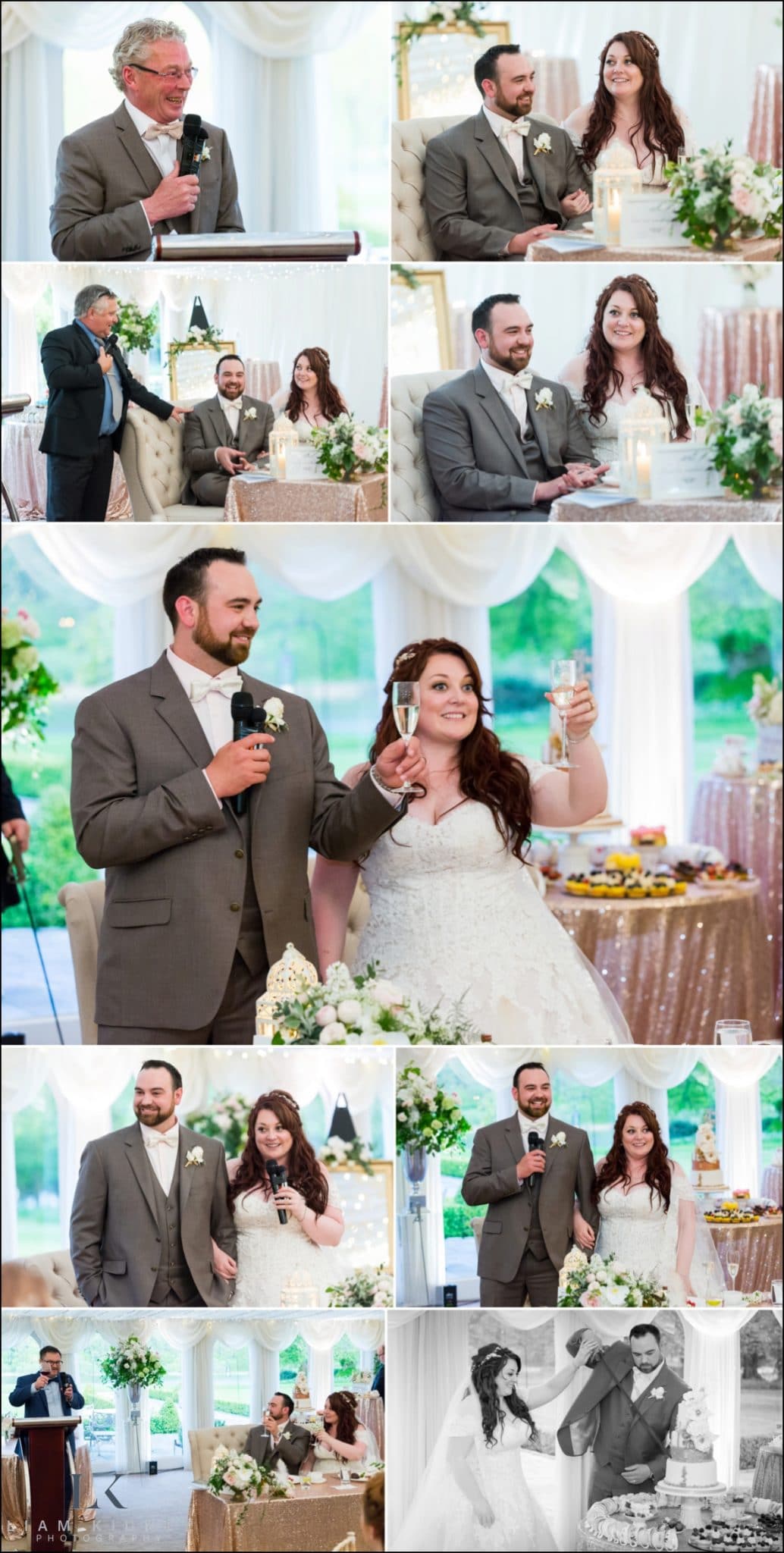 Featured
Wedding Vendors
Wedding Planner: Collette O'Leary – Elegant Events by Collette
Venue: Castle Leslie (Website) 
Hair: Carolin Zinck Hair 
Make-up: Michelle Field
Photographer: Liam Kidney 
Videographer: Cathal Farrelly 
Wedding Band: Sway Social Band 
Wedding Entertainment: Celtic Irish Dance Fusion 
Celebrant: Dara Molloy  
Flowers: The French Touch 
Décor: Event Planner NI 
Ceremony Music: Brenda Grealis and Dave Clarke 
Axe Throwing & Archery: Orange Works 
Falconry: Castle Leslie  
Invitations: Minted – www.minted.com 
Wedding Dress: Ethos Bridal 
Nails: Fifth Avenue Dublin 
Save the Dates: Designed by bride and groom