Irish Destination Wedding
Melanie and Greg got in touch with me to photograph their Irish destination wedding in Connemara, Co. Galway last week.   They told me they were in the early stages of planning their ceremony and were open to suggestions.   I helped them get in touch with a lovely wedding celebrant called Em Ryan from The Roving Rev who agreed to do their wedding ceremony at short notice.  I also asked a friend of mine  Lorna Stuart Trainor from A Room In Bloom Florists in Athlone on behalf of Melanie,  to create a beautiful natural bouquet and a matching boutonnière for the couple that would match the Connemara landscape .   They both did a fabulous job.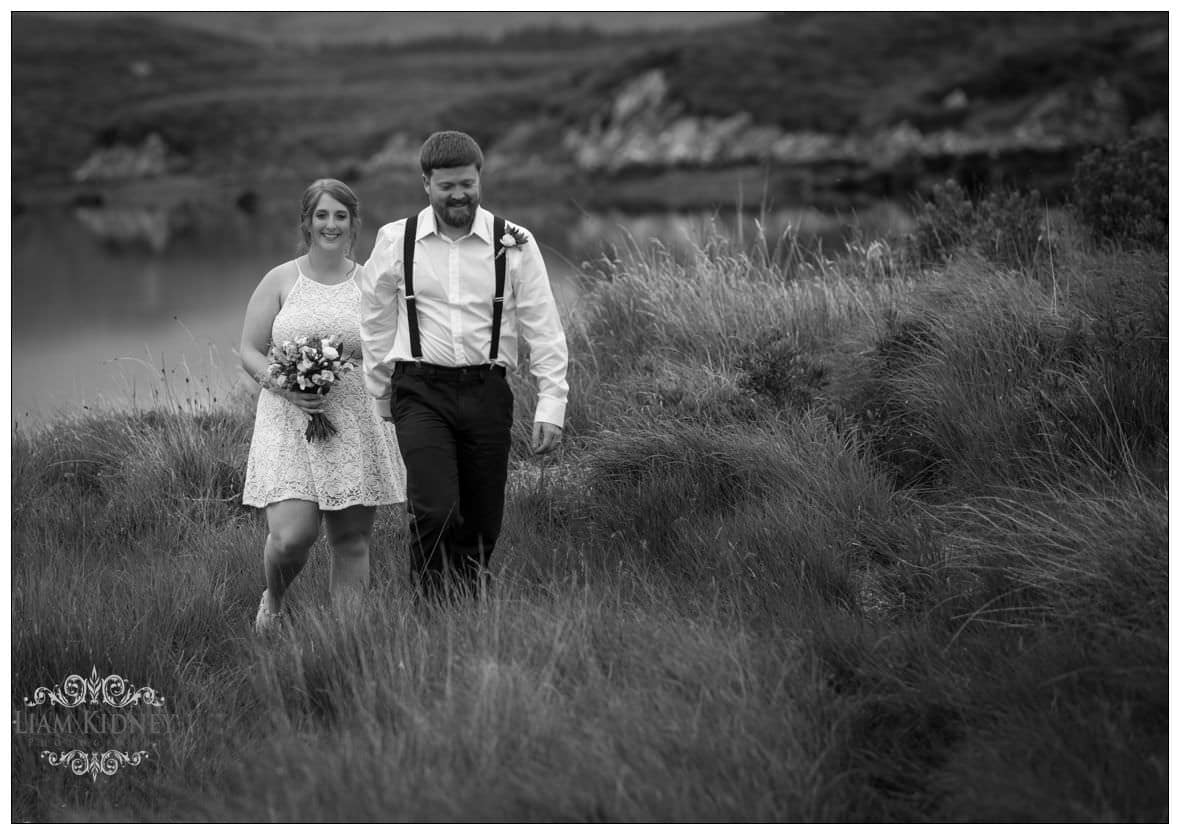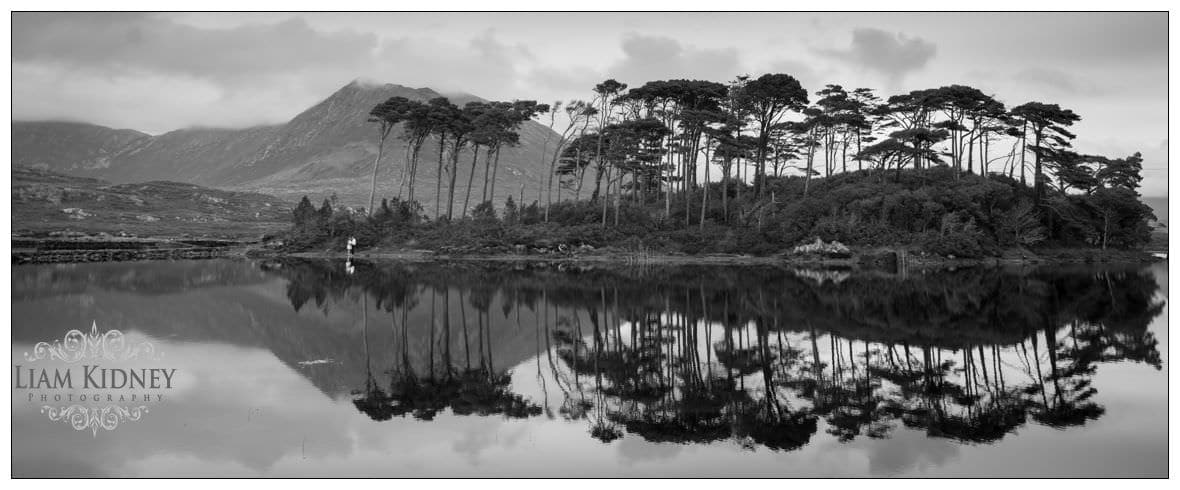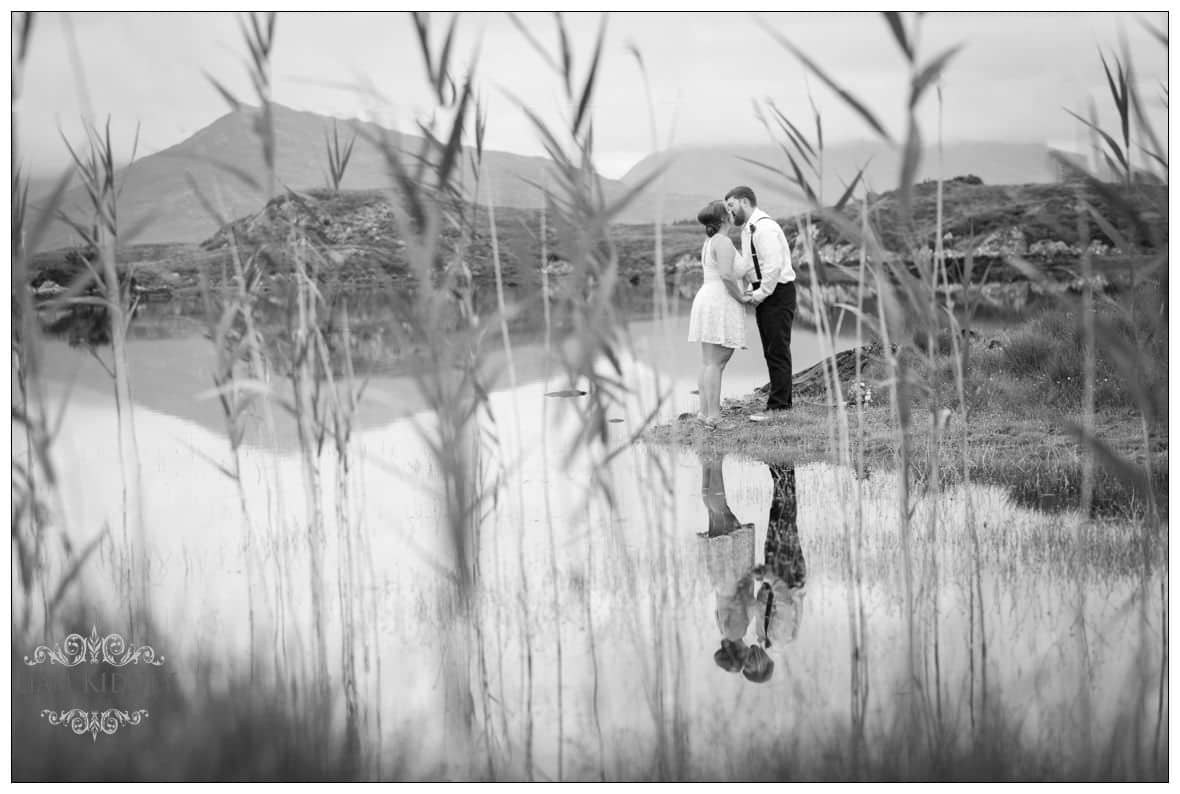 Derryclare, Connemara Wedding Ceremony
Melanie and Greg were originally planning to have their ceremony on Silverstrand Beach near Barna, Co. Galway.   After having the biggest Summer drought in my lifetime, initially I wasn't too concerned about the weather…how wrong could I be!  When I met the couple  in Galway it was lashing rain and things were not looking good for an outside ceremony.  However, I had done my research on the Met Eireann Weather website and worked out if we headed 45mins west of Galway city towards Clifden we would miss all the rain.  The sea was at full tide so this ruled out doing beach photography so we headed into the heart of Connemara on the N59.  I had photographed lovely landscapes in Derryclare in Connemara before so I knew it was one of the most beautiful locations in Connemara.  The couple were delighted with my suggestion and we were 30mins outside Galway the rain stopped and the mist rose up to the middle of the mountains.
When we arrived in Derryclare, everybody was blown away by the stunning location.    I loved that there was a mother sheep(ewe) with her baby lamb walking down the road just before we stopped.  They were walking them down the aisle (so to speak) as we neared the Lough.  Myself and Greg had a quick look around and decided the small hill top overlooking the Derryclare Lough was the perfect place for the ceremony.  Em from The Roving Rev agreed and we started the ceremony shortly afterwards.  The bride Melanie looked stunning as she walked towards the nervous groom Greg.  The ceremony was truly amazing.  Surreally, the wind died down at the start of ceremony and  a mirror lake was the background for the photos.  (Who says fairies are not true!!) It was a truly breathtaking setting.  Em read some lovely readings and then did a traditional Celtic hand fasting ceremony.  The couple exchanged their rings and were pronounced husband and wife.
We took a few couple wedding photos in the surroundings landscapes before heading back to Galway.  Ironically just as we were finished the wind picked up again and the mirror lake disappeared.  Very surreal indeed.
I have photographed over 400 weddings in the past ten years and I have to say it was one of the most special unique experiences that I have ever witnessed.  To see Melanie's and Greg true love for each surrounded in such a naturally beautiful setting made it a ceremony which I will never forget.  I wish the both of them many happy years together.   We finished the day off by stopping in The Anglers Rest pub in Oughterard, Co. Galway for a traditional pint of Guinness to toast the happy couple.   It was a perfect end to a wonderful and memorable day in Connemara.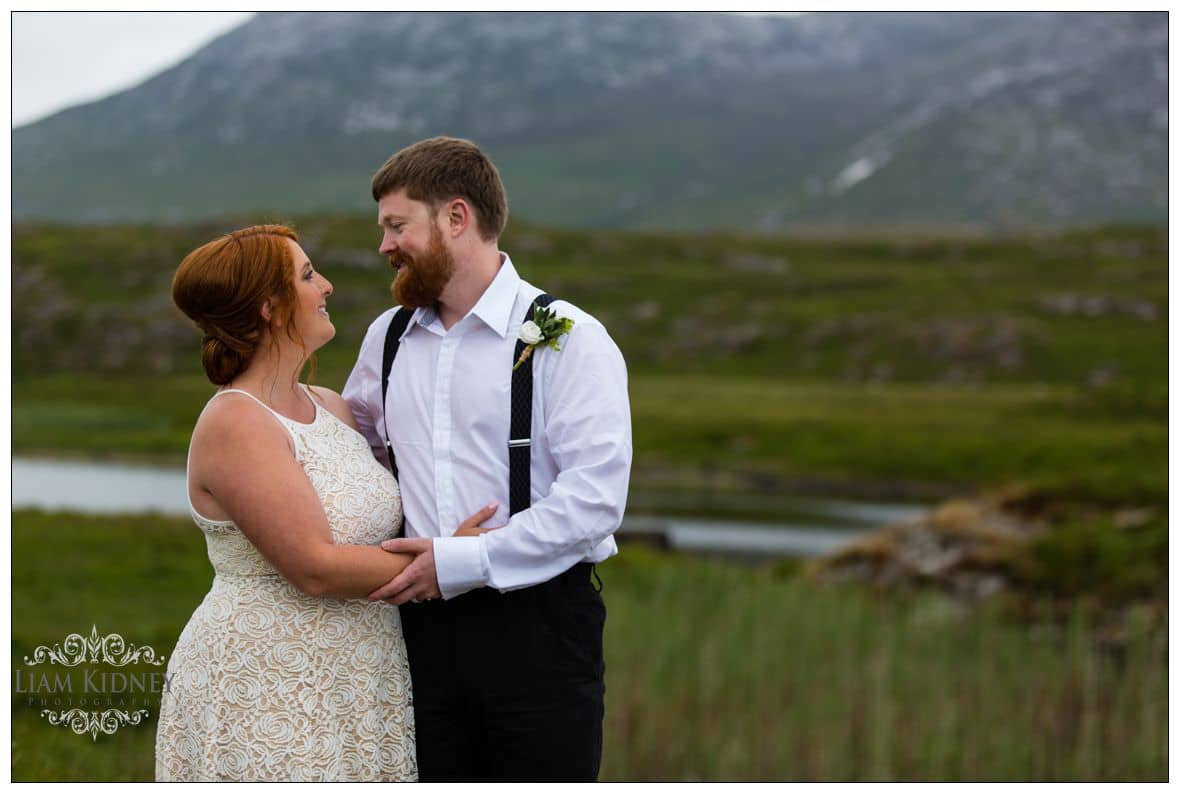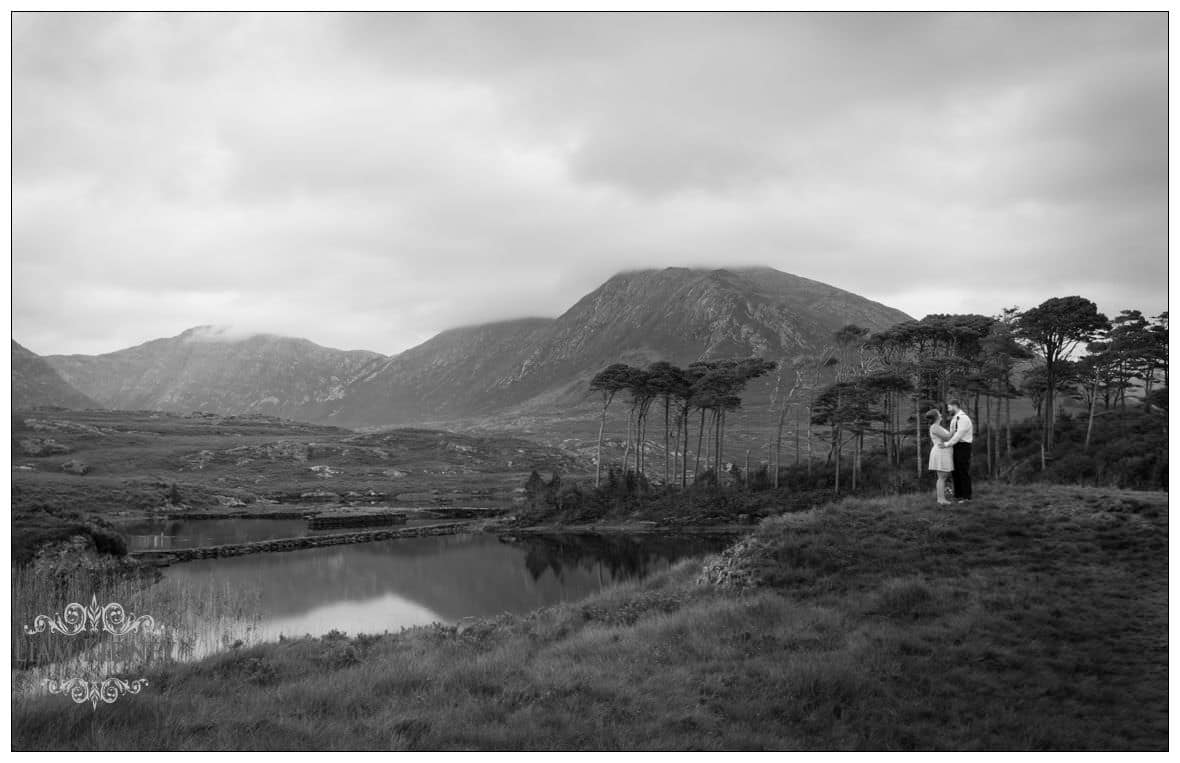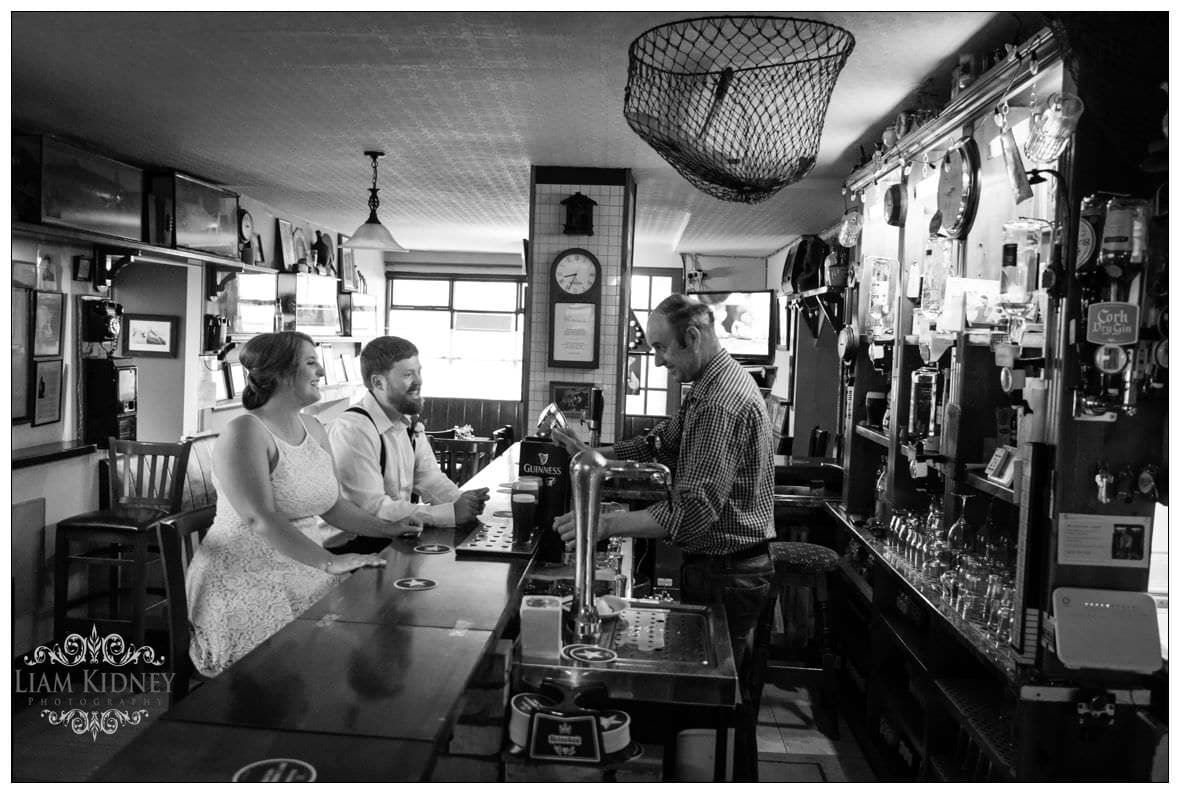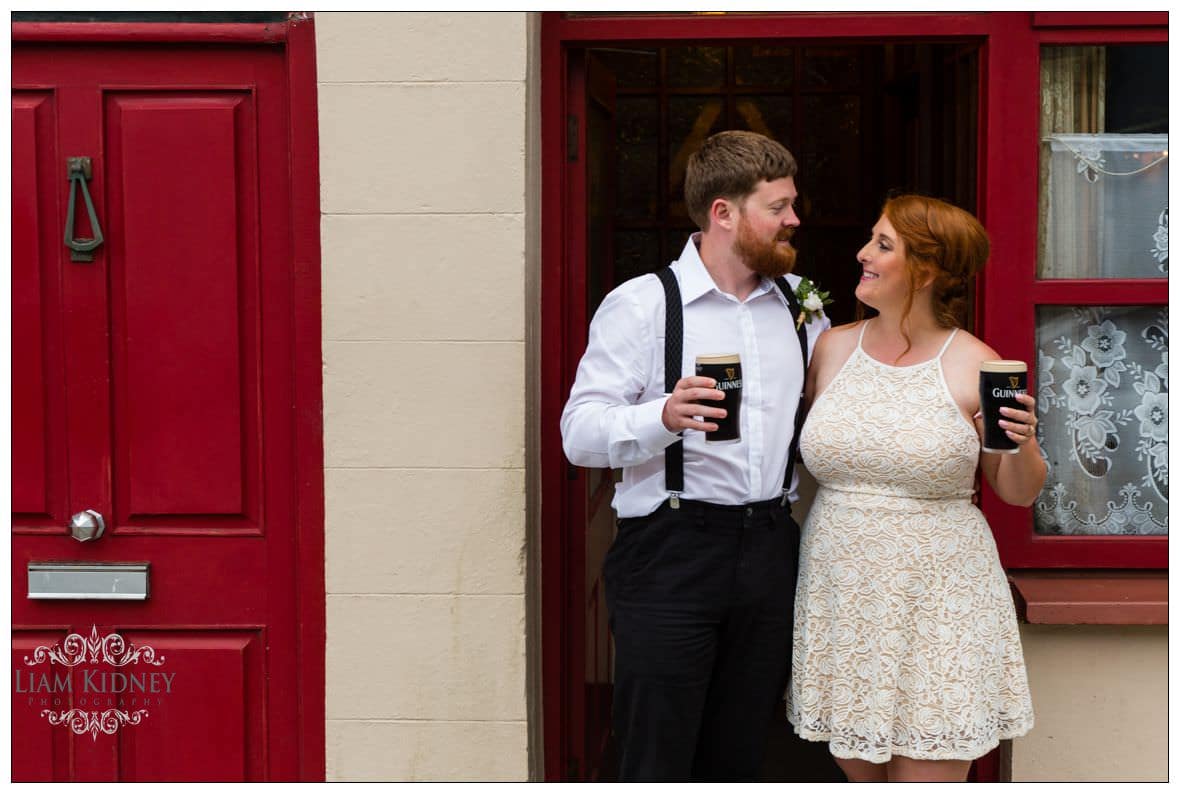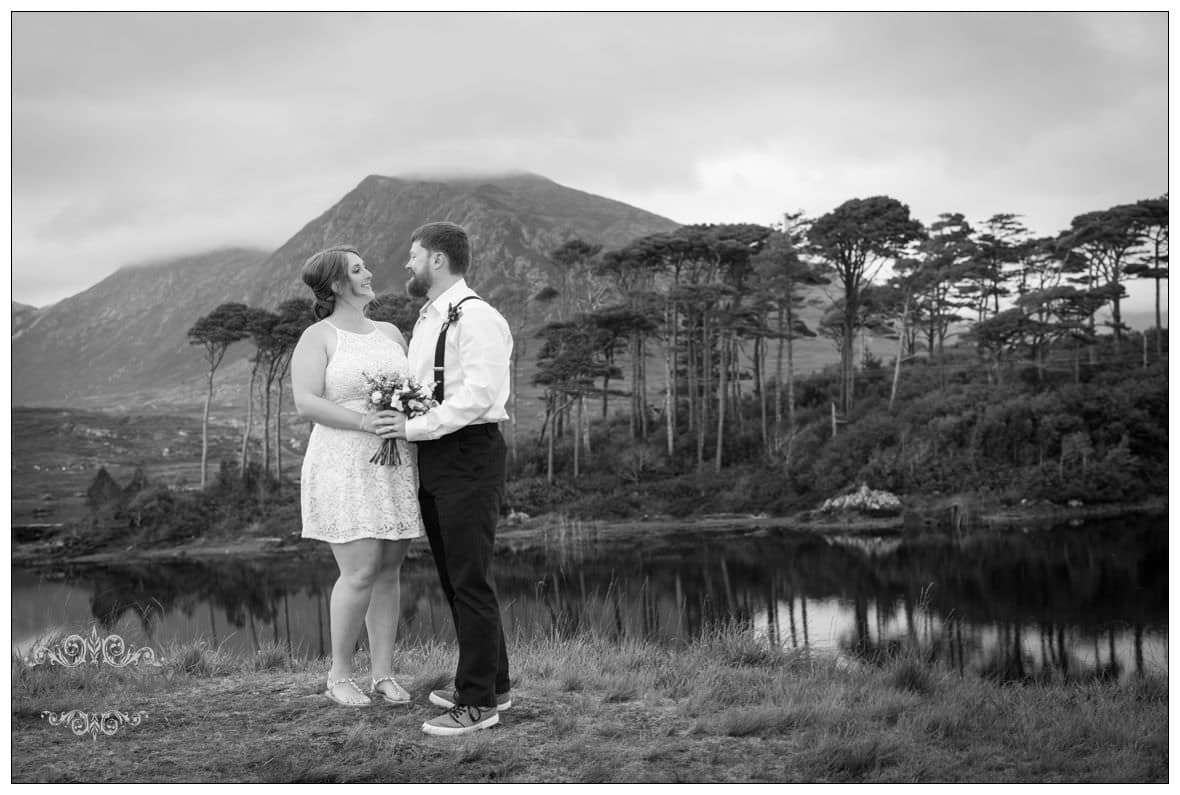 Elopements In Ireland
Please note: Elopements to Ireland are becoming a lot more common than ever before.  The government have relaxed as to where, when and how you can get married so there are loads of options for couples visiting the country wishing to get married or get a blessing.  You still have to give at least three months notice for the ceremony to be legally binding or to get married in a church so many couples opt for a spiritual blessing and do a short civil legal ceremony when they go home.  You can read more about the legal requirements on the the excellent Citizen Information Website Here.
Em from TheRovingRev offers non legal, symbolic ceremonies here (though all were legal in America when she lived there) She did a pop up elopement wedding in the gardens of Malahide castle last summer with another American couple and similar ceremonies in beautiful parts of the country.  It is very easy (and cheaper) to do the legal bit at town hall in America.  It just takes a week not 3 months. It is one of the main reasons couples are choosing the Emerald Isle for their elopements/destination weddings!
Lovely Testimonial
Melanie and Greg sent me this lovely testimonial after their wedding.  It is nice when couples are so grateful when you go the extra mile.  It makes what I do so special.
"When my husband and I decided to elope last minute on our trip to Ireland we had no idea what we would have in store for us. We had no idea what we were doing but thanks to our photographer Liam Kidney, our day was perfect! Our wedding day was full of surprises. We initially were supposed to wed on Silverstrand Beach in Co. Galway, but thanks to the insane rain storm our beach had been swallowed by the tides. As the bride I was definitely nervous but thankfully Liam had a plan. Liam suggested that we drive for 45 minutes down country roads to get out of the rain. Our adventure was just beginning and we caravan-ed out to Derry Clare, Connemara where we pulled off to this beautiful spot on a lake. Our ceremony was priceless and Liam was there to capture it all. After the ceremony Liam shot multiple additional locations with us. His enthusiasm and passion for his work was contagious. He made the entire event feel magical. He was encouraging and fun and even crawled through grasslands for us. Liam had been there for us since the second we contacted him, he helped with every aspect of the wedding including picking up my bouquet. I an honestly say I would not have had a wedding without the help of Liam. After our special day he was so prompt at getting us our galleries and the pictures were incredible. We felt bad that our families couldn't be there but the pictures made them feel like they got to still see our day. You will not be disappointed with Liam, he is incredible at what he does. It was a day we will never forget and it was due to our adventurous, flexible, caring, and professional photographer and officiant. I could not recommend him more. He delivered far beyond what we expected."
-Melanie Skelly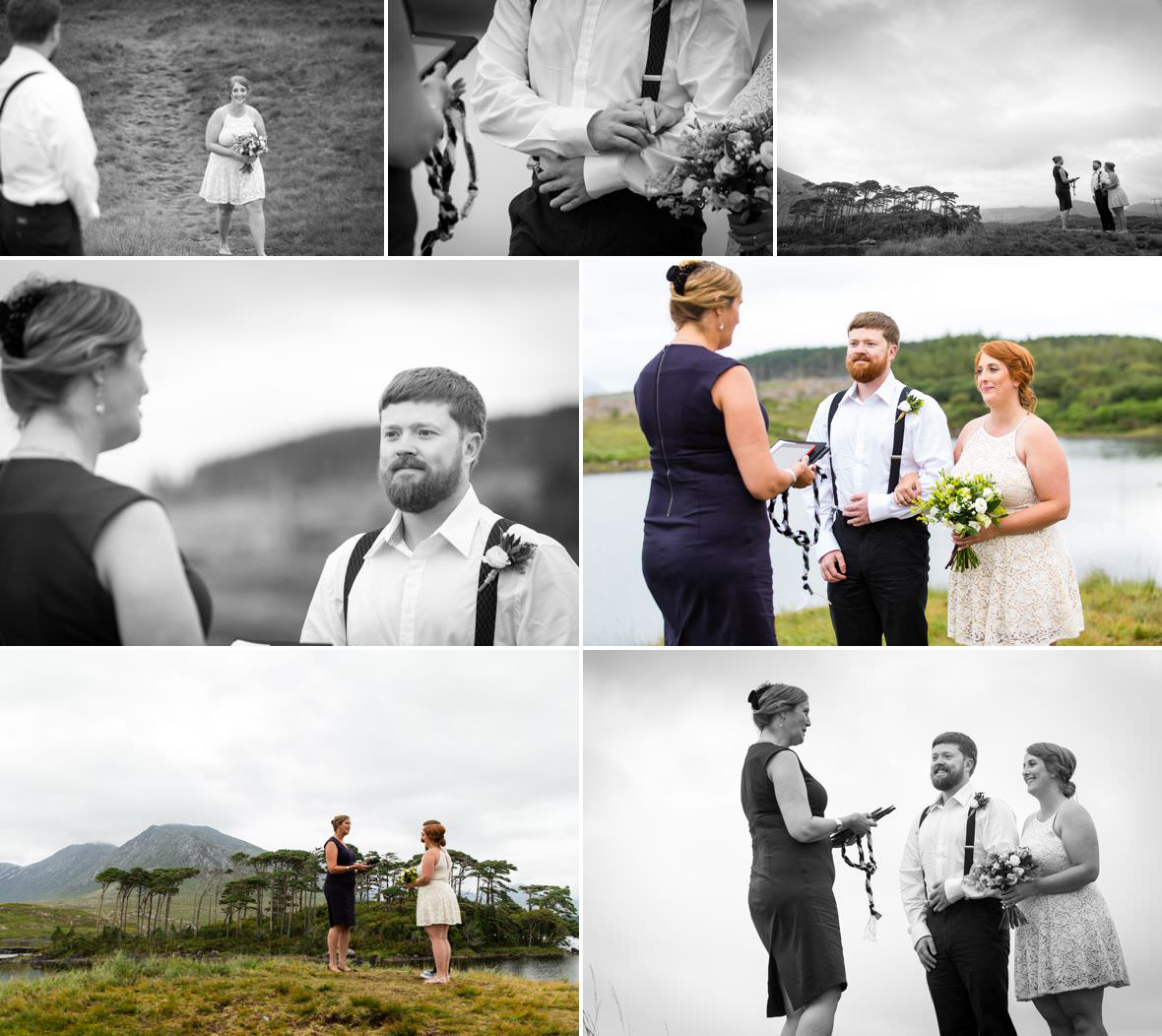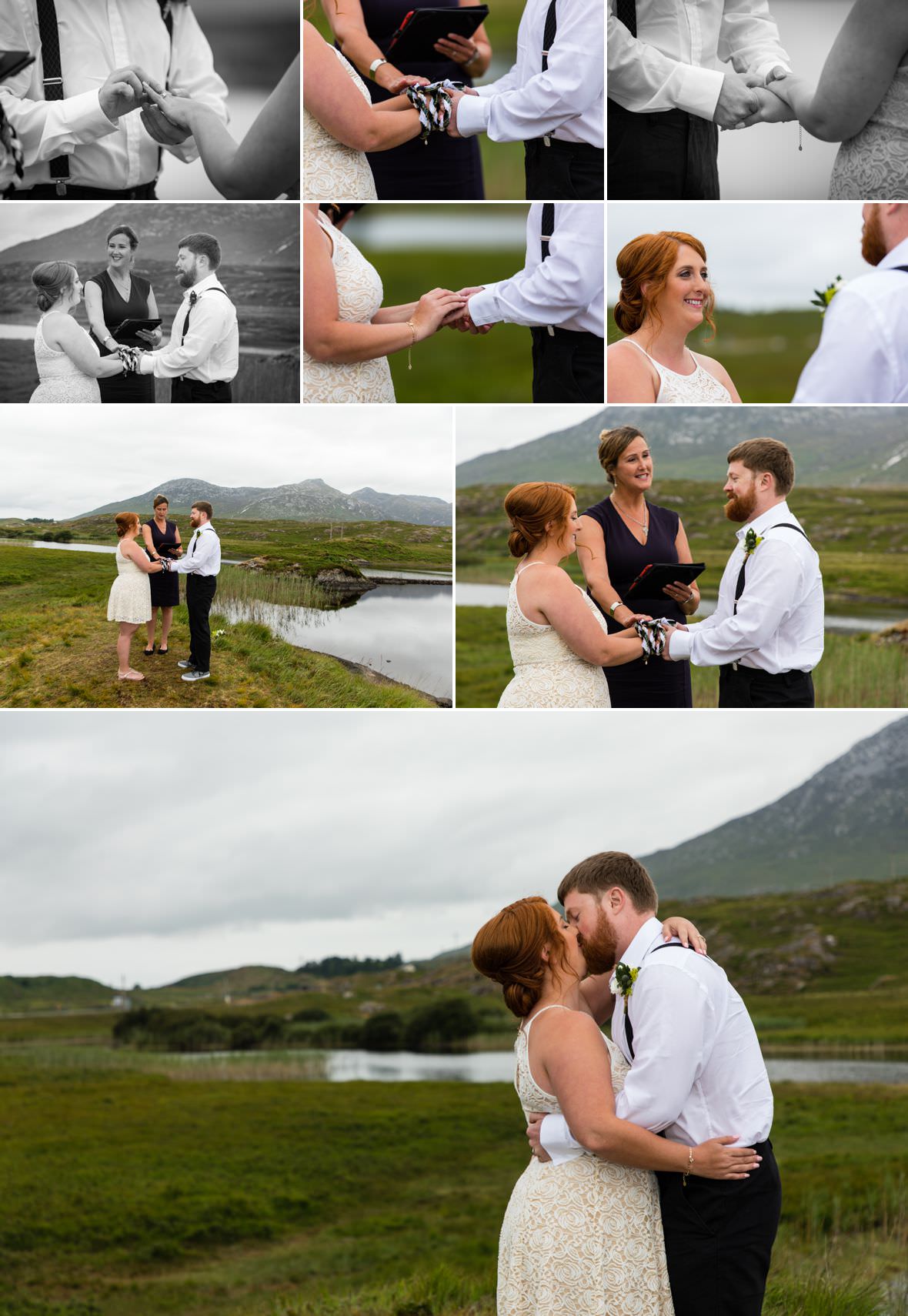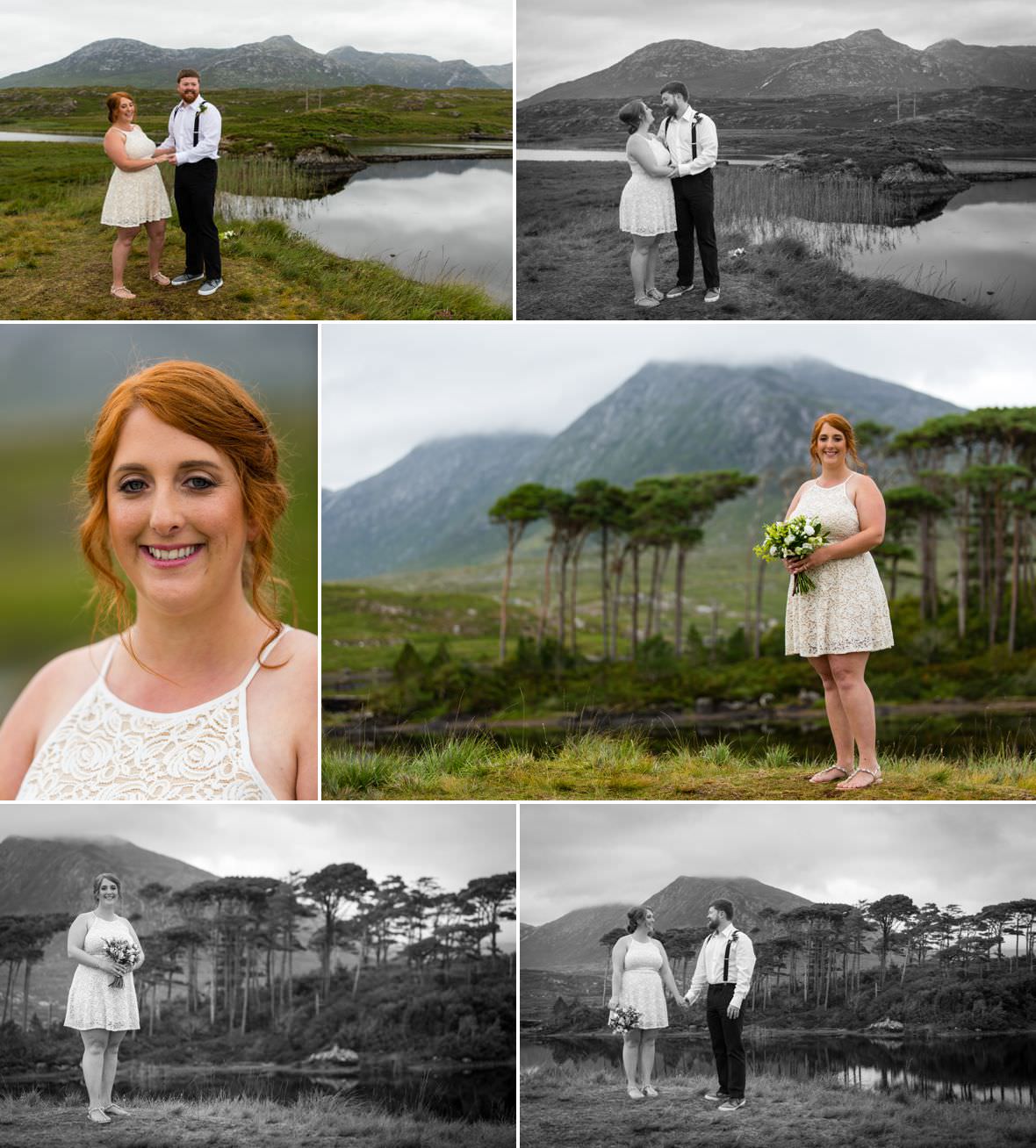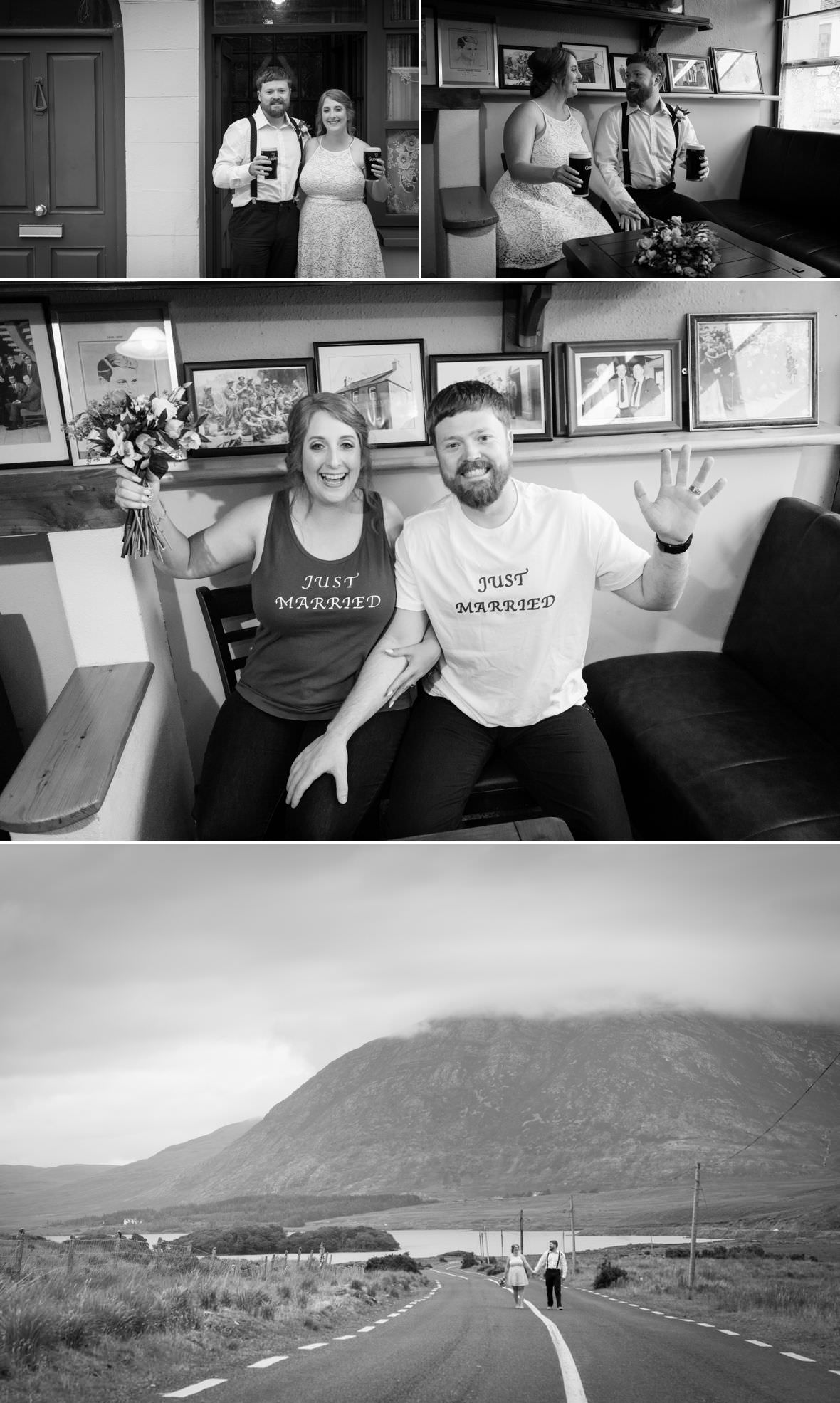 Thank you for visiting this post from 2018
As a professional photographer since 2007 my style has continuously evolved and changed with the times.
Feel free to check out this link to my favourite photos from 2019.
Here is a link to one of my favourite weddings from 2019 that will reflect my modern style that mixes documentary photography with the more classical style.
If you are looking for advice for your own wedding day please have a look at this blog post.